Hoosiers attempt to chop down the Trees at the BART
By Carl James @jovian34 March 21st, 2023
---
Top 9th: Sycamores 5, Hoosiers 15 (FINAL)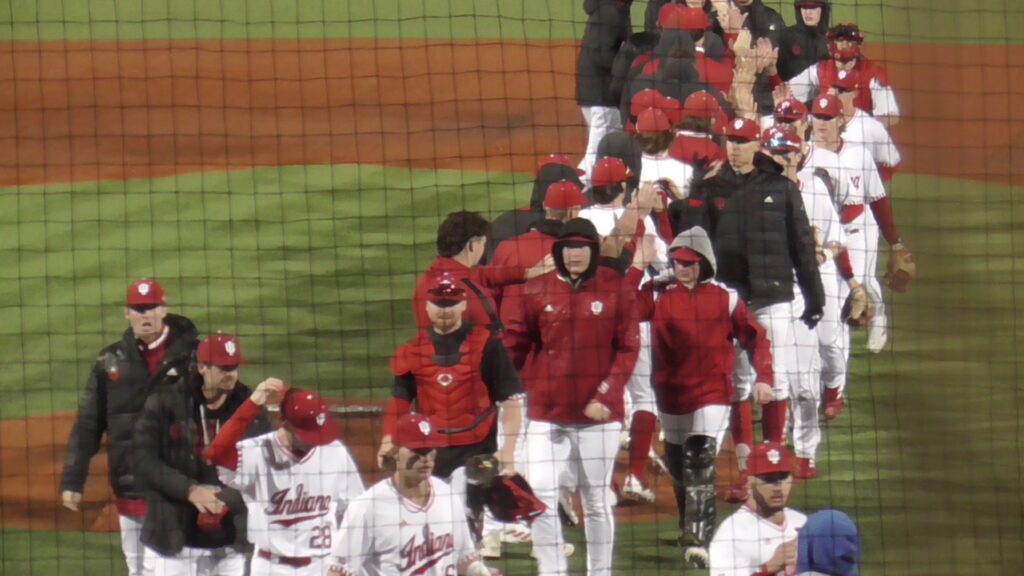 Adrian Vega is on the bump and gets two quick contact outs. Then he gives up a solo shot into the Indiana bullpen . Whalen reels in a flyball in left to end the game.
Bottom 8th: Sycamores 4, Hoosiers 15
Indiana strands two.
Top 8th: Sycamores 4, Hoosiers 15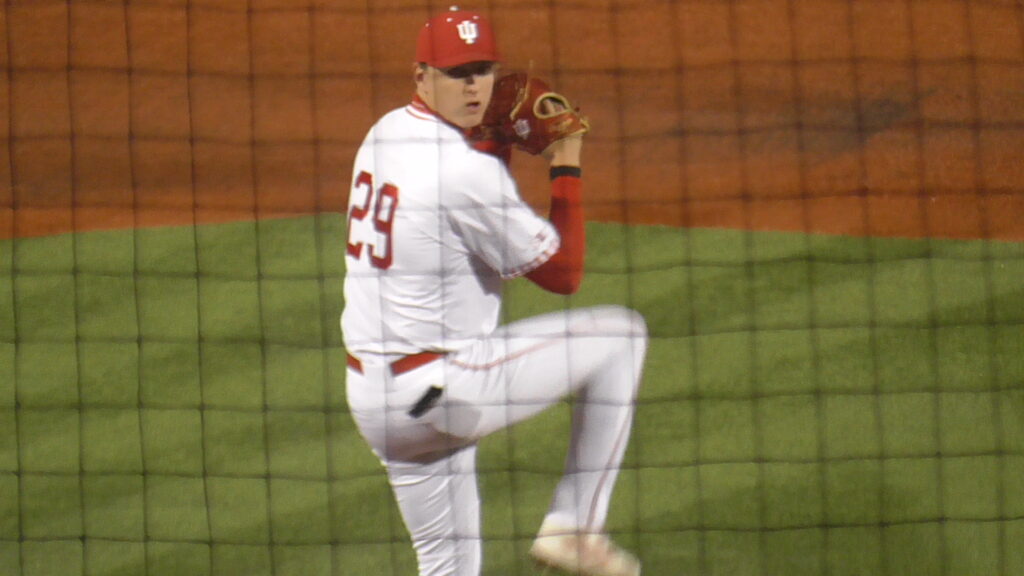 Ryan Kraft is the new pitcher and strikes out the first two batters. Ground out makes it 1-2-3.
Bottom 7th: Sycamores 4, Hoosiers 15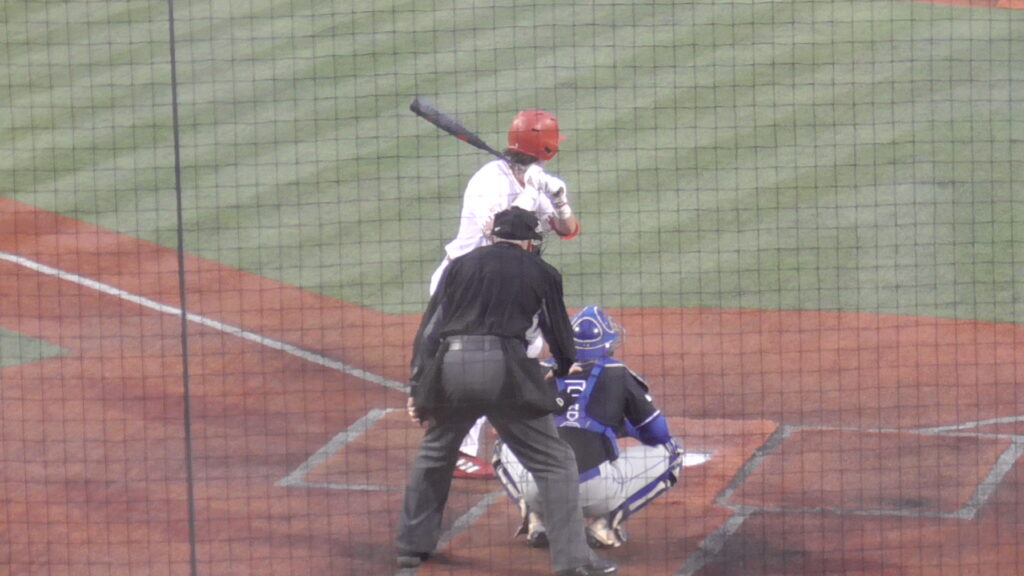 Glasser takes a pitch to the leg to get on with no outs. Glasser looks a three off-speed pitches and slices a fastball into right for a single. Devin Taylor pulls back on a bunt attempt pitch that hits him to load up the bases. Hoosiers re-take the lead on a wild pitch. Brock Tibbitts walked forcing a pitching change. Mathison looks at a curveball for strike three. Tyler Cerny drives in two with a single. Ellis gets on via hit by pitch. Bobby Whalen drives in two more with a single and the Trees have gone to the bullpen for the second time this inning.
Devin Taylor hides a fly ball in the lights for a bases clearing double. Tibbitts drives in Taylor with a single. Mathison drove in Tibbitts with a double. Cerny strikes out to mercifully end the inning.
Top 7th: Sycamores 4, Hoosiers 4
Connor Foley is new Indiana pitcher. First batter goes down on a 93 MPH fastball. The next batter reaches on a 3-1 walk. The next batter works the count full and walks. Sycamore batters have done a good job fouling off pitches today. Foley is at 20 pitches, Jeff Mercer comes out to make a pitching change. Craig Yoho is on the bump with two, one out.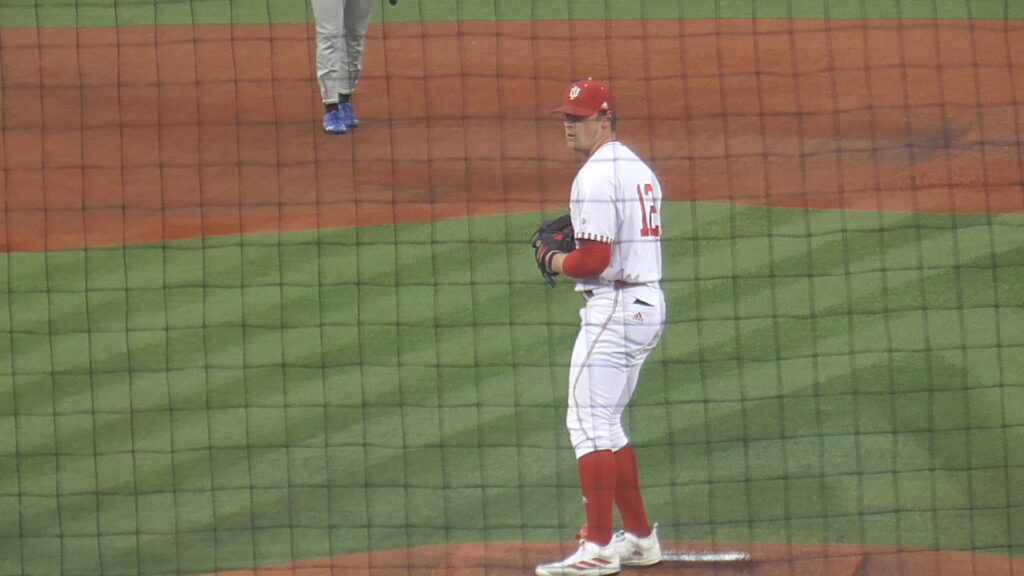 A liner to right has juiced the bases. Yoho hits the next batter driving in a run. More full count foul balls lead to another walked. The next batter walks on four straight pitches tying the game. Yoho recovers to strike out the next batter. A 74 MPH breaker strikes ends the inning.
Bottom 6th: Sycamores 1, Hoosiers 4
Tibbitts gets on first with a single. Mathison hits a 430 foot homer to right center.
Top 6th: Sycamores 1, Hoosiers 2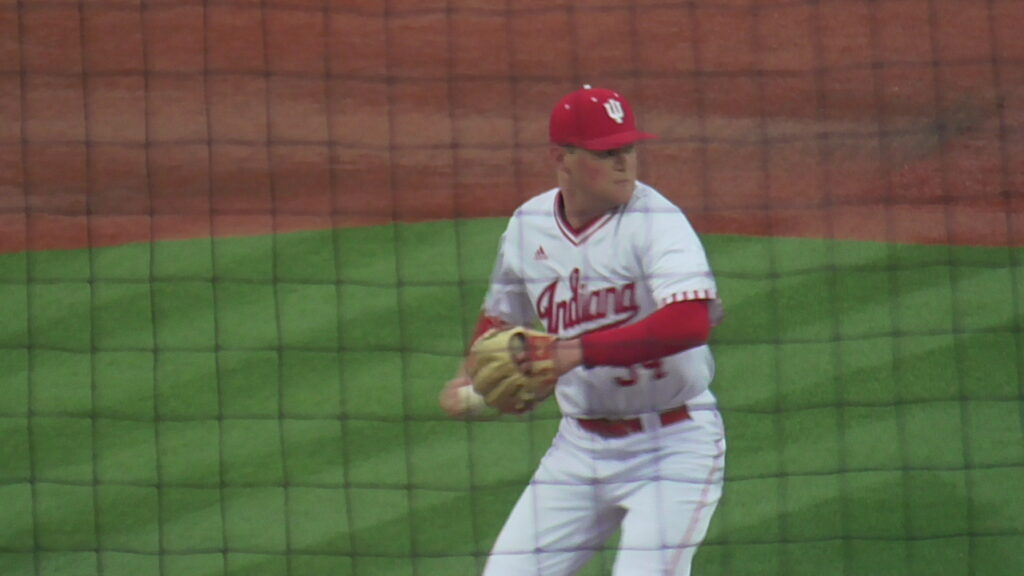 Gabe Levy is pitching for Indiana. Glasser almost completes a great play on a ball up the middle. Whalen reels in a deep fly on the warning track and Levy induces a pop-up to first base. Levy ends the inning with a looking strike out.
Bottom 5th: Sycamores 1, Hoosiers 2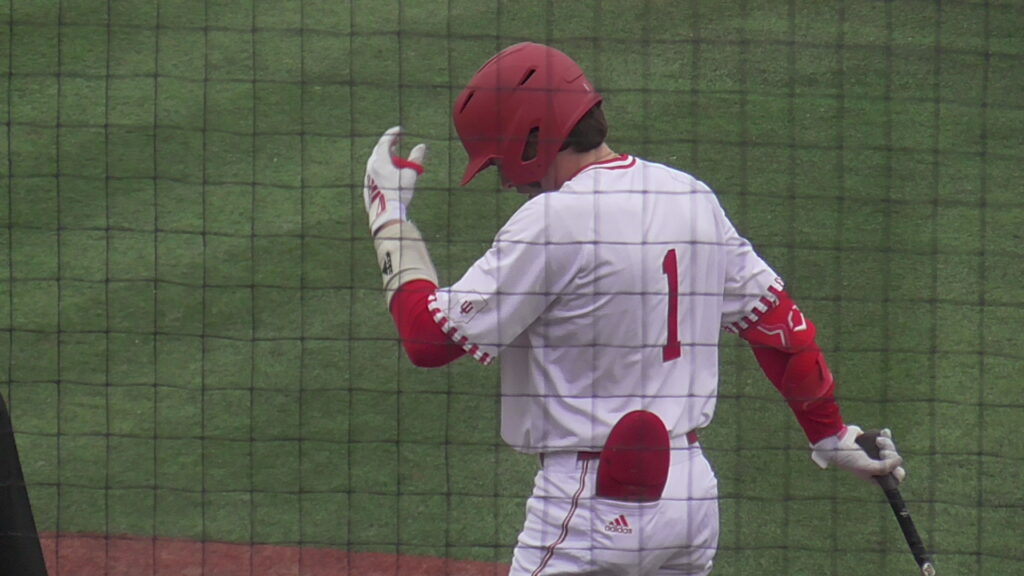 Two quick outs, and then Glasser smacks a double into the left center gap. Even when a pitcher seems to be having his way with the Hoosier lineup, Glasser manages to get a hit. Josh Pyne got on with third strike wild pitch and Glasser advanced to third. Devin Taylor is just out on a grounder to third.
Top 5th: Sycamores 1, Hoosiers 2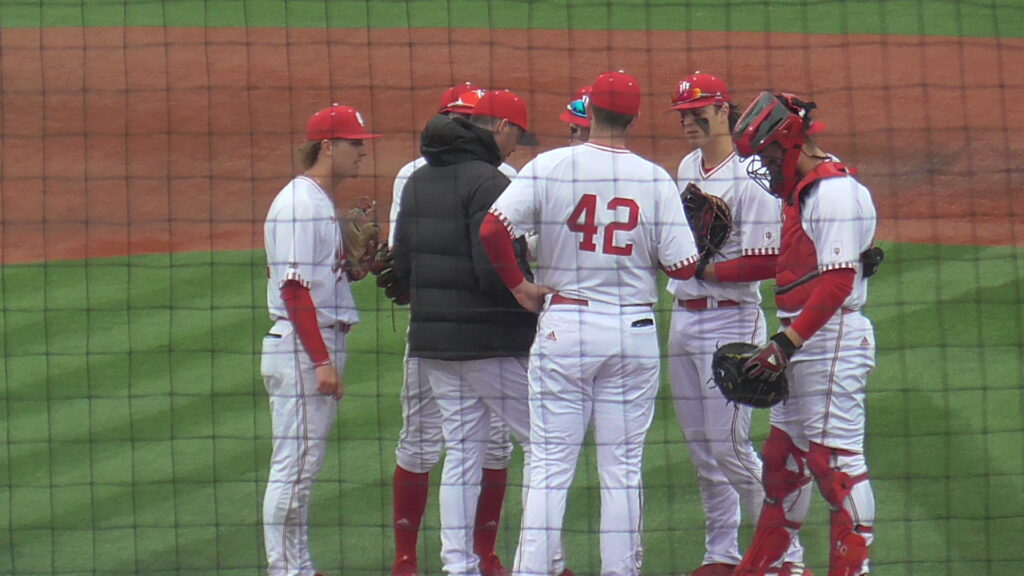 Aydan Decker-Petty is pitching. He's throwing hard. Gets a loud flyout and then gives up a single. Tyler Cerny bobbles a possible double play ball, but recovers and gets the out at first. Decker-Petty uses a mix of 90-91 fastball and 82 MPH curveball to end the threat with a strikeout.
Bottom 4th: Sycamores 1, Hoosiers 2
Mathison strikes out to lead off the inning. Cerny goes down on strikes and Ellis is out on a rocket to the left fielder.
Top 4th: Sycamores 1, Hoosiers 2
Ethan Phillips on the bump. Josh Pyne makes a great play on ground ball up the line for the second out. Phillips allows a walk. Josue Urdaneta for the Sycamores worked the count full, but Ellis threw out the baserunner attempting to steal.
Bottom 3rd: Sycamores 1, Hoosiers 2
Phillip Glasser gets on via single, but is caught trying to steal second. Devin Taylor drew a two out walk, but was stranded.
Top 3rd: Sycamores 1, Hoosiers 2
Ben Seiler is the new pitcher. He walks a batter and then gets a unconventional strikeout when the batter fails to move out of the way of a hit by pitch and is called out. Two singles plate a run. Glasser fields a tough grounder and gets the lead runner via force at third base. With 21 pitches, Seiler is replaced on the mound by Evan Whiteaker.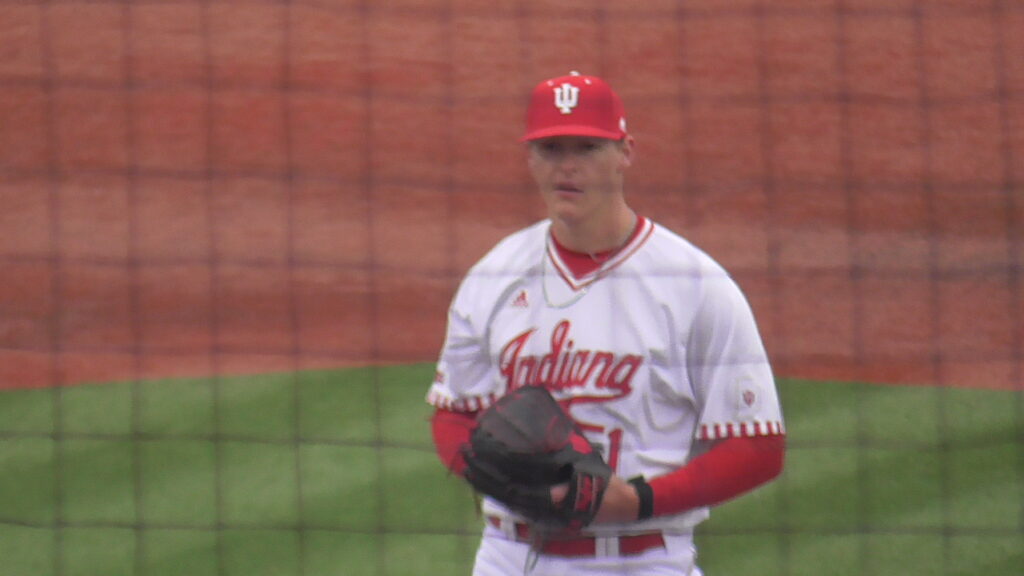 Whiteaker walks his first batter on a full count. The next batter he strikes out on three pitches, the last being a 92-MPH fastball after throwing two 78 MPH curveballs.
Bottom 2nd: Sycamores 0, Hoosiers 2
Brock Tibbitts singled and Carter Mathison doubled down the right field line. Tyler Cerny struck out on a full count. Matthew Ellis was walked on four pitches to load the bases for Bobby Whalen who smacked a sacrifice fly to right field. Mathison scored on a wild pitch that also put Ellis is scoring position. Hunter Jessee flew out to deep left to end the inning.
Top 2nd: Sycamores 0, Hoosiers 0
Brayden Risedorph is the new Hoosier pitcher. He walked his first batter. Coach Mercer has said they are working on improving his velocity from the stretch. He got a fielder's choice and then struck out a batter. His fastball did not lose as much velocity as against Morehead State from the stretch. A wild pitch put both runners in scoring position He was sitting 90-91 and ended the inning on a 93 MPH fastball for a strikeout.
Bottom 1st: Sycamores 0, Hoosiers 0
Phillip Glasser made good contact, but the Hoosiers go down 1-2-3.
Top 1st: Sycamores 0, Hoosiers 0
Seti Manase hits a batter, but erases the baserunner with a pickoff to face just the minimum.
Starters
Manase to start on the mound. pic.twitter.com/hdRZEdYBjv

— Indiana Baseball (@IndianaBase) March 21, 2023
Links
Taking on the Sycamores at home.

📺: https://t.co/tHXdfTG8ZM
📻: https://t.co/Q3EAWiHazd
📊: https://t.co/LFiX0NpsUm pic.twitter.com/ON7nXmRHCT

— Indiana Baseball (@IndianaBase) March 21, 2023