The final 2023 game at the BART as the Hoosiers take on a solid Purple Aces team
By Carl James @jovian34 May 16th, 2023
---
Top 9th: Aces 2, Hoosiers 6 (FINAL)
Sam Murrison and Morgan Colopy enter the outfield as defensive replacements. Bobby Whalen ⭐tracks down a ball on the warning track for the first out. Hayden hits Brendan Hord with pitch. The pinch runner gets into scoring position with a wild pitch. Hayden strikes the batter out. With Roberts coming up Glant comes out to talk to Hayden. Hayden pounds the zone with heat, but Roberts manages to foul off a couple of pitches and earn a walk. Hayden strikes out one more to seal the game and earn the save.
Bottom 8th: Aces 2, Hoosiers 6
Hoosiers get a couple of base runners but manage no insurance runs.
Top 8th: Aces 2, Hoosiers 6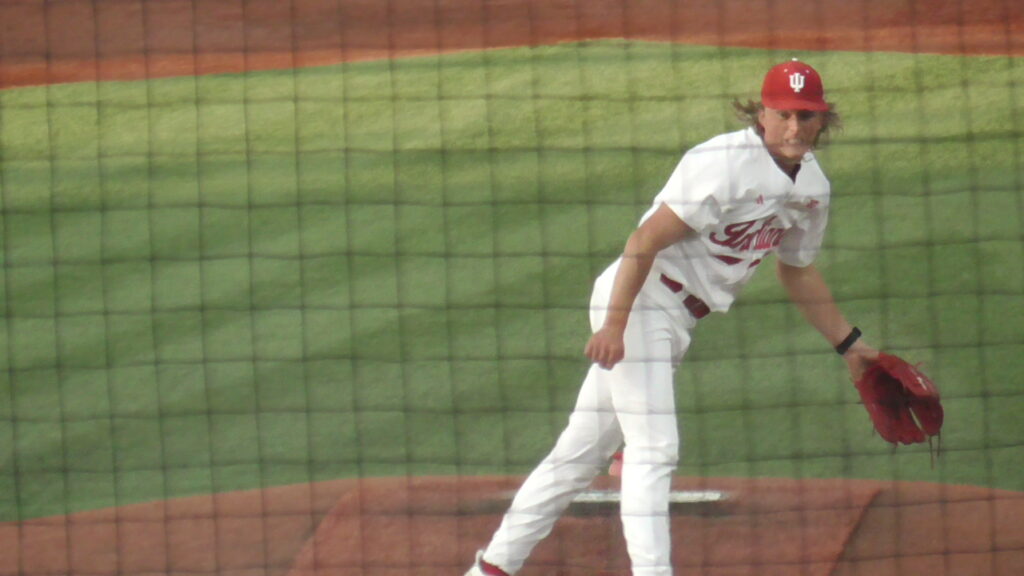 Hayden is back out for his third in inning of work and gets off to a great start striking out Shallenberger. A single is erased by Peter Serruto throwing out the would-be base stealer before Hayden completes another strike out to end the inning.
Bottom 7th: Aces 2, Hoosiers 6
Bobby Whalen legs out a 1-out infield single. A walk and a Tibbitts single plates another Hoosier run and prompts an Ace's pitching change. A double play stops the bleeding for the Aces.
Top 7th: Aces 2, Hoosiers 5
Hayden is back out for his second inning of work. Roberts hits his second no-doubt solo shot of the evening, getting back a run for the Aces. Hayden takes care of the other three batters to send the Hoosiers to the stretch with a 3-run lead.
Bottom 6th: Aces 1, Hoosiers 5
Mathison works a one-out walk. Pyne pops up. An errant throwing trying to double up Mathison allows him to get into scoring position. Jessee hits a double of the wall scoring Mathison. Cerny drives Jessee in with a single.
Top 6th: Aces 1, Hoosiers 3
Luke Hayden is the new Hoosier pitcher. An infield single is erased with a 4-6-3 double play. A nice flick by Tyler Cerny. Hayden walks Borgstrom on five 95-MPH fastballs off the plate.
Bottom 5th: Aces 1, Hoosiers 3
Shane Harris is the new Aces pitcher. He comes in with a 1.34 WHIP and gets two quick groundouts. Taylor flies out to end the inning.
Top 5th: Aces 1, Hoosiers 3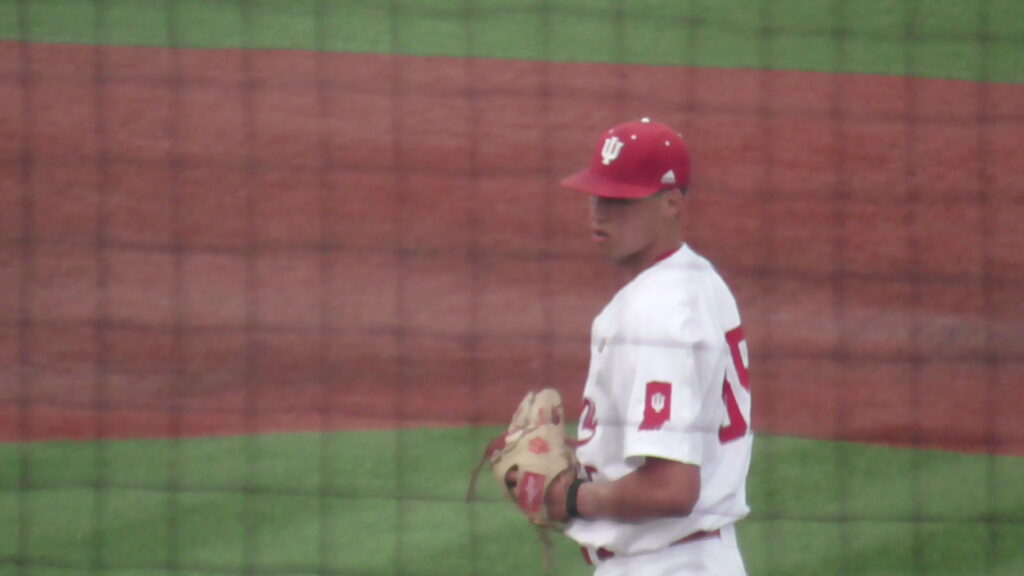 Wes Burton and his stirrups are on the bump for the Hoosiers now after a nice 4 inning start by Phillips. Burton hits the first batter on a 3-2 pitch. He's throwing his 90-MPH fastball for strikes early in counts but struggling to locate his 82-MPH offspeed. He managed to throw two 78-MPH curves for first pitch strikes. He throws five straight strikes to Chase Hug who watches strike three. A wild pitch to Fougerousse gets the runner to third base and he walks on four pitches. Burton gets ahead 1-2 to Shallenberger, escaping the inning with a pop up to Pyne in foul territory.
Bottom 4th: Aces 1, Hoosiers 3
Denu makes short work of the bottom of the Hoosier order.
Top 4th: Aces 1, Hoosiers 3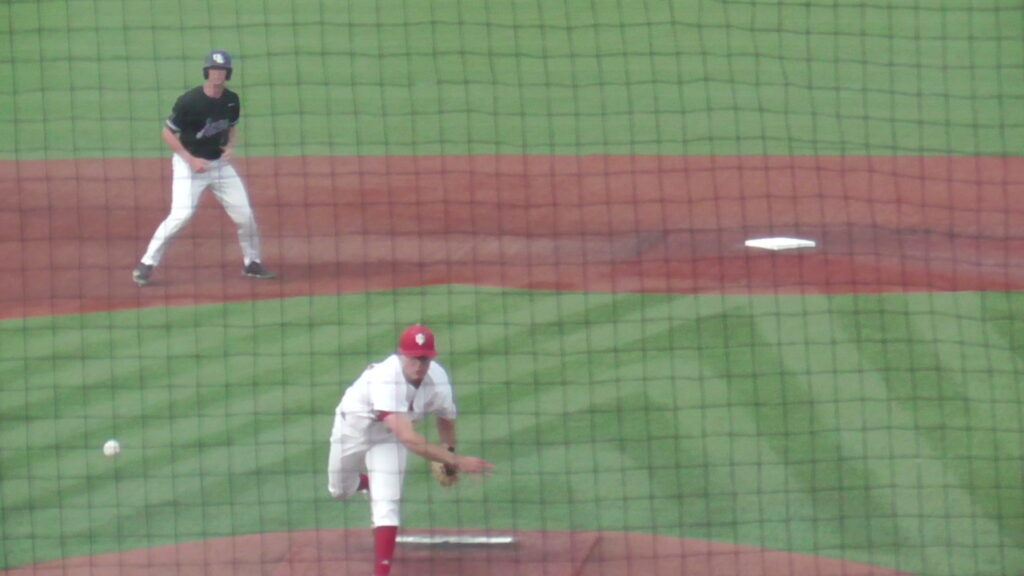 A one out double has Evansville threatening. A four pitch walk prompts a mound visit from pitching coach Dustin Glant while Wes Burton tosses in the bullpen. A ground ball to the left side is fielded by Pyne ⭐ who starts a 5-4-3 double play to end the inning.
Bottom 3rd: Aces 1, Hoosiers 3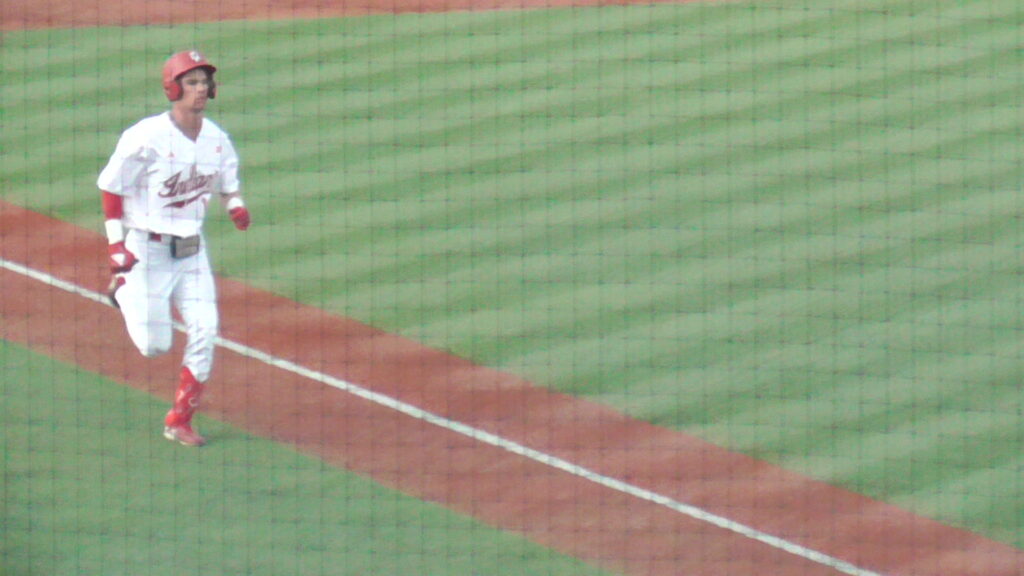 Bobby Whalen goes oppo with a solo shot to the get the run right back. With two outs singles by Brock Tibbitts and Mathison put runners on the corners, but both are stranded.
Top 3rd: Aces 1, Hoosiers 2
After a strikeout, Eric Roberts rifles a 78-MPH off speed pitch over the right field fence to get the Aces back within one.
Bottom 2nd: Aces 0, Hoosiers 2
Brock Tibbitts flies out to right field. Carter Mathison is grazed by a pitch to become the first Hoosier base runner. Josh Pyne, fresh of national player of the week honors, goes the other way for a double to get two runners in scoring position. Hunter Jessee drives in Mathison with a sacrifice fly to center. Tyler Cerny gets on via a dribbler up the third base line. Fougerousse drops the ball allowing Pyne to score.
Top 2nd: Aces 0, Hoosiers 0
With two strikes to left handed hitter Mark Shallenberger the Hoosier defense shifts three guys to the right side, but Shallenberger hits a high liner into left for a single as Hunter Jessee was slightly shifted over as well. Phillips got a pop up and fly ball before falling behind 3-1 to Danny Borgstrom. Phillips gets it to a full count, and Borgstrom fouls off a two-strike pitch before drawing a walk. Phillips ends the inning with a can of corn
Bottom 1st: Aces 0, Hoosiers 0
Phillip Glasser bounces out to Fougerousse at first base. Bobby Whalen grounds out to second base. Shifting three to the right side, Devin Taylor grounds out to second base to end the 1-2-3 inning.
Top 1st: Aces 0, Hoosiers 0
Ethan Phillips surrenders a lead-off single but erases it with a successful pick-off to face the minimum.
Pregame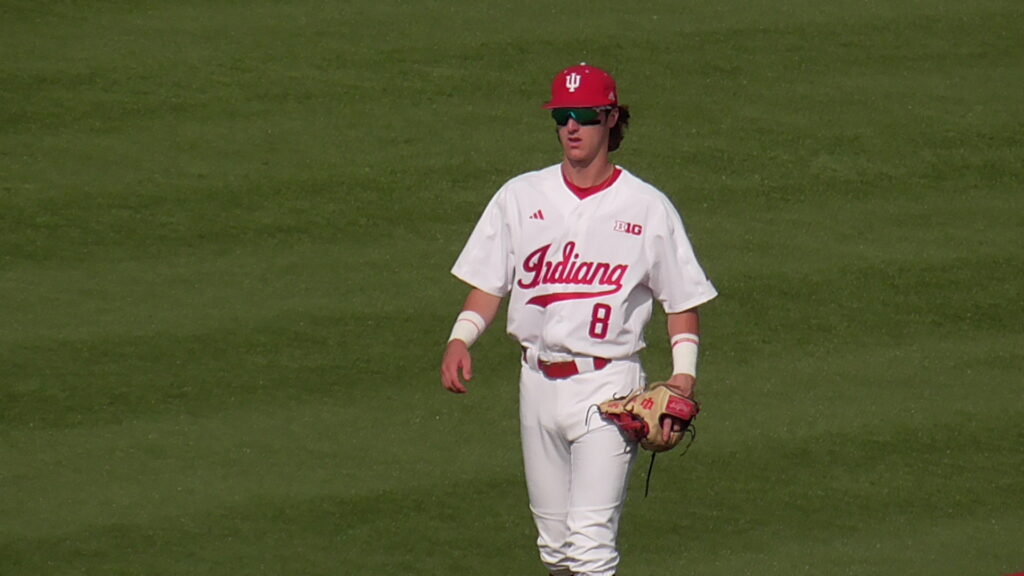 Starters
Ready to roll 🆚 Evansville. pic.twitter.com/Yesk0vmzvS

— Indiana Baseball (@IndianaBase) May 16, 2023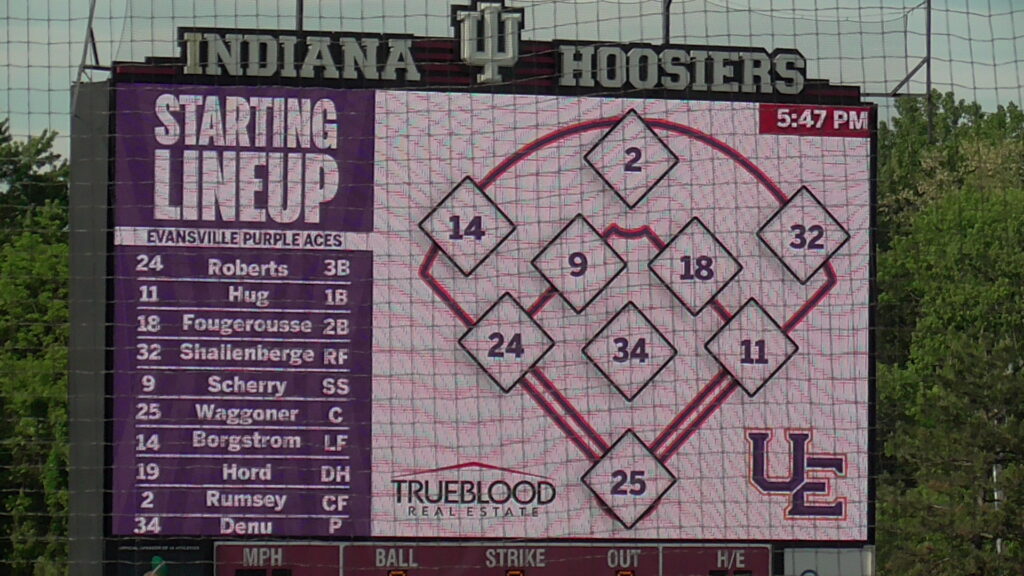 Preview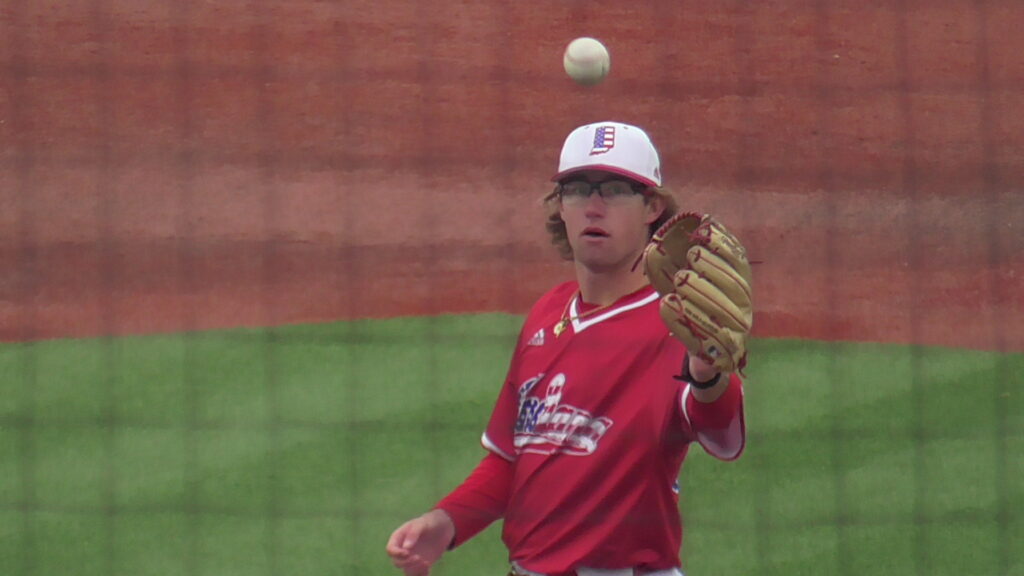 Freshman Ethan Phillips will get the start for the Hoosiers. Phillips is 3-0 with a 5.11 ERA and 1.34 WHIP. Evansvile will counter with senior lefty Tyler Denu. Denu is 3-3 with a 4.30 ERA in 44 innings pitched with a 1.45 WHIP. His last appearance was a midweek against Butler where he earned the win with 4.0 innings pitched surrendering one unearned run on two hits and walk with 55 pitches.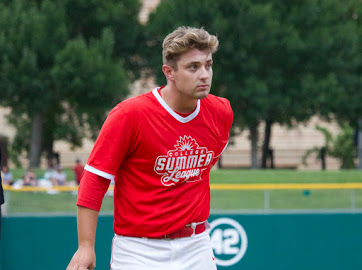 Evansville also features Indiana transfer Kip Fougerousse who is hitting .314 on the year and is fourth on the Ace's squad with a .964 OPS.
Links
TV: This game will be televised on the Big Ten Network