The Hoosiers are now on a 3-game winning streak (all on the road) and have solidified some of the shakier parts of the resume. Right now this is a very solid resume for an NCAA regional 2-seed (in the range of 17th to 32nd nationally). The resume includes two impressive top-30 road wins, plus two top-50 home series wins. Most importantly is the improvement of the road record to 10-9. The 26 RPI is solid and nothing on this resume suggests that any lesser RPI teams should be granted seeding ahead of the Hoosiers.
From D1's Nitty Gritty Report (https://d1baseball.com/nitty-gritty/)
· Rating Percentage Index (RPI): 26th
· Record: 34-15
· Strength of Schedule (SOS): 68th
· Non-conference SOS: 160th
· B1G Ten 11-9 (6th Place)
· Home: 18-5
· Road: 10-9
· Neutral: 6-1
· Record vs. RPI Top-25: 1-4
· Record vs. RPI 26-50: 6-6
· Record vs. RPI 51-100: 5-2
· Record vs. RPI 101-200: 14-3
· Record vs. RPI 200+: 8-0
Best Individual Game Wins:
· At #19 Coastal Carolina (Brittain Resorts Baseball at the Beach – Conway, SC)
· At #27 Louisville
Best Series Wins:
· 2-1 series win at home vs. #44 Illinois
· 2-1 series win at home vs. #47 [That Team Up North]
B1G Ten is Massively Unbalanced
On the surface, the B1G portion of the resume looks slightly worse than what one would expect. Indiana has the​ second best​ RPI in the conference but is only in 6th place. When the RPI formula (without home-away adjusters as home-away is even scheduled) is applied to strictly conference games* the Hoosiers look much better: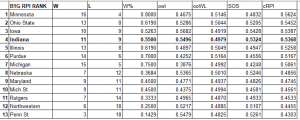 * the cRPI calculated here only includes data from conference games – just like the standings, non-conference games have zero impact on this ranking
The Hoosiers improve from sixth in the B1G standings to fourth in the B1G cRPI. Projecting past the final weekend, the Hoosiers have a very good chance of passing Iowa and a decent chance of passing Ohio State in the B1G cRPI as well. The most telling thing in this calculation is the second and third place teams in the conference standings fall to sixth and seventh in the cRPI when weighted for conference strength of schedule. Those teams have been buoyed by playing more games against the league's less competitive teams.
The B1G Ten plays only 8 series among 13 teams without divisions. This means that each team only plays two-thirds of the rest of the league. Which team plays which other team is entirely random. Fortunately, the very top of the standings and the cRPI match this year with Minnesota being the clear leader. After the Gophers, the cRPI varies dramatically from the unbalanced conference standings bringing into question whether conference standings in an unbalanced conference are a legitimate metric to use when looking at a team's postseason resume for seeding purposes.