Indiana won both halves of their Sunday doubleheader with Evansville, claiming their first series win since beating Missouri State the first weekend in March
by Garrod Creech •

@creech_garrod

• March 28th, 2022
Game 1
Bradley Brehmer (3-1) got the start and the win in the first game. Evansville didn't get their first hit off him until the top of the sixth despite managing baserunners in four of Brehmer's six innings. Similar to his last outing, his opponents struggled to make hard contact against his sinking fastball. Outside of an early error, Indiana played solid defense behind Brehmer to keep the Purple Ace offense at bay. Brehmer routinely found himself ahead in counts all game, but Evansville batters showed enough plate discipline to force him into a lot of deep counts. He struck out five in his 1-hit effort, but four walks and some long at-bats resulted in him throwing a lot of pitches (111 total).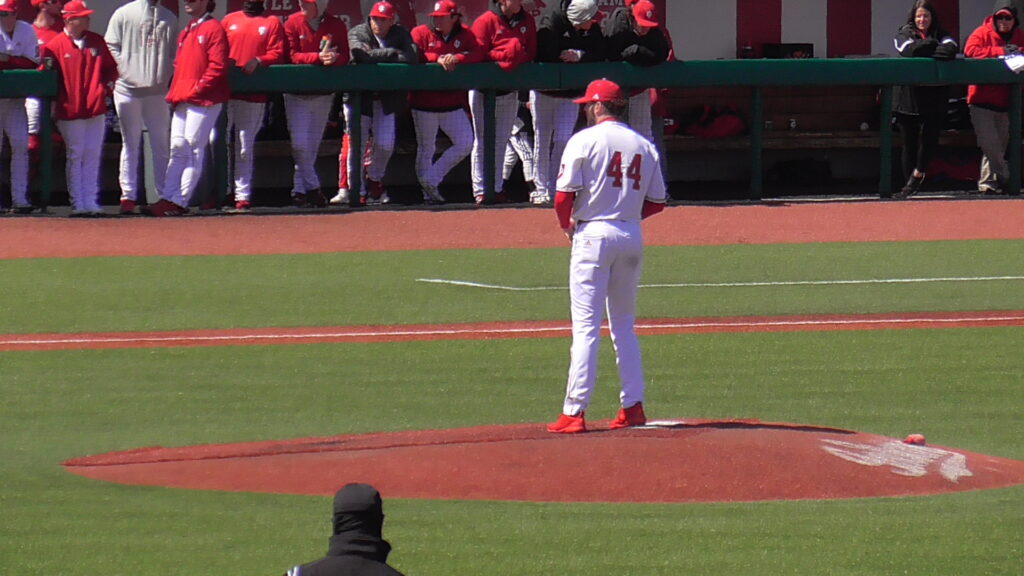 "My first outing was out of the bullpen, and I'm not used to it," Brehmer said after the game. "I got back in the starter role and feel really good right now."
While Brehmer anchored the defensive side, Indiana's offense again struck early. Phillip Glasser reached on a soft liner that was dropped with one out in the bottom of the first. A balk (that was really a failed pickoff move) got Glasser to second. A Bobby Whalen single knocked the first Hoosier run across, then another monster Matthew Ellis home run pushed the lead to three. Two more hits added an extra run in the first, but Indiana wouldn't score again until the bottom of the fourth, where two hits and another Evansville error netted the Hoosiers their last two runs.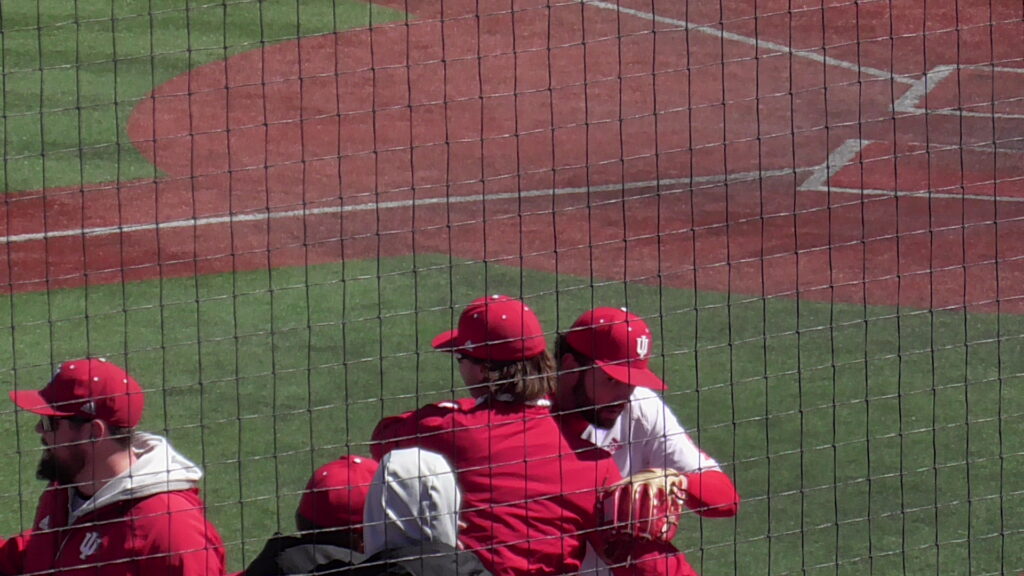 The ensuing 6-0 lead would remain intact for four innings.
Reese Sharp replaced Brehmer. He tossed a scoreless seventh no problem but ran into trouble in the eighth. After hitting the leadoff man, Sharp, who's been significantly better without runners on base this season (.410 opponents' batting average with runners on vs .114 average with nobody entering today) gave up a 2-run home run, hit a second guy, then gave up a double and called it a day. John Biagio-Modugno entered the game with 1 out, but his first pitch was walloped over the right-field wall. He was done before the inning was over. Grant Holderfield followed on the mound for the Hoosiers and was able to end the threat, but not before he hit the fourth Purple Ace of the inning (and fifth of the game). Those free passes along with five hits led to five runs for Evansville and a precarious 6-5 IU lead.
Holderfield was perfect in the ninth though, notching both his and Indiana's second save of the season.
"That kid's good. I mean he's a young freshman. He's really good. [There's] never a doubt when he's on the mound. He shuts it down pretty well," said Brehmer.
Game Two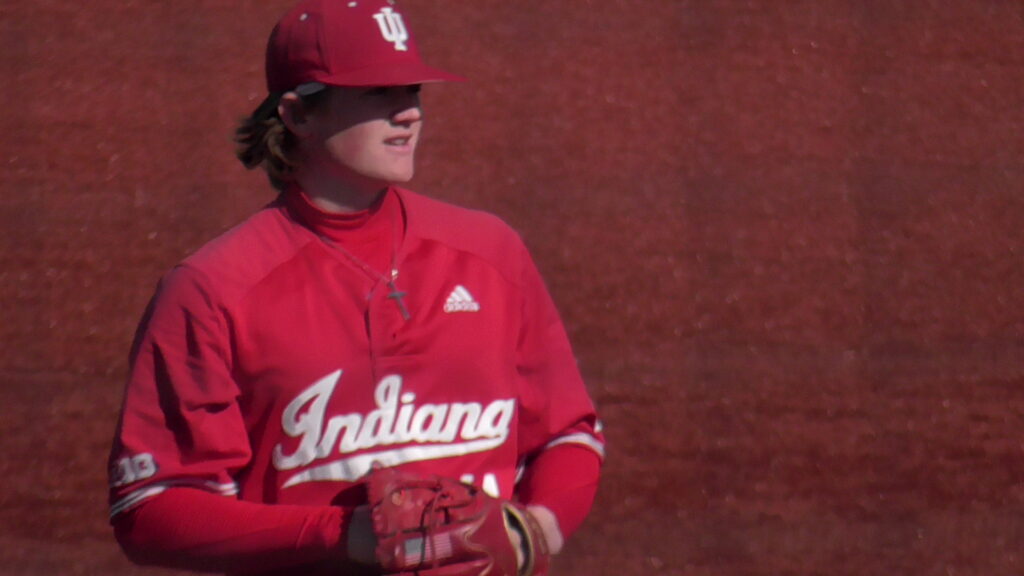 Nathan Stahl opened the second game for the Hoosiers, but Evansville, perhaps emboldened by their late-game surge earlier in the day, came out swinging. Three hits led to a run in the first, two free bases and hit led to another in the second, and Stahl was pulled before that end of the second.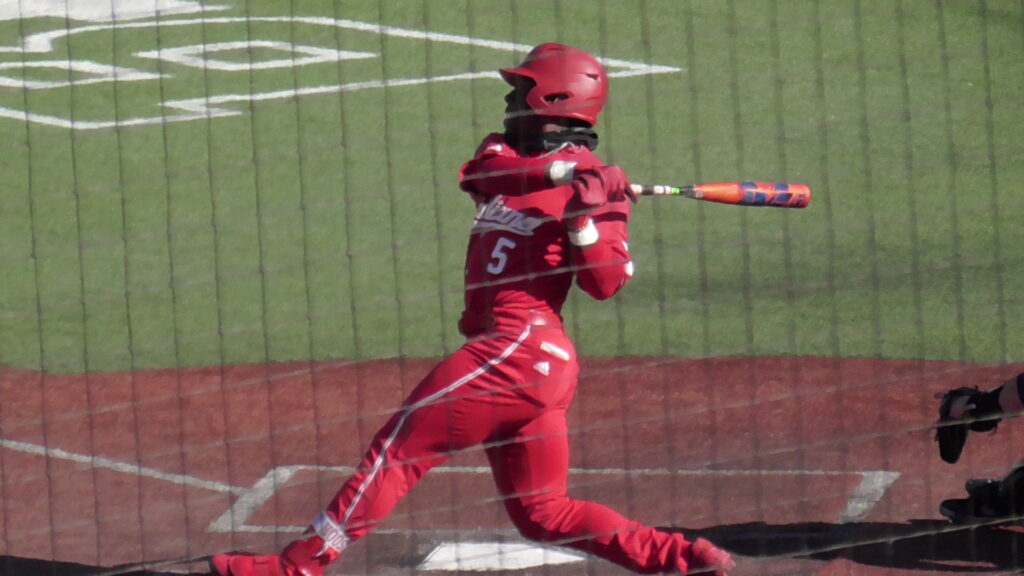 Indiana made some noise early too. Back-to-back singles to lead off the first setup Bobby Whalen with runners on the corners. Whalen hit into a double play (and tweaked his hamstring running to first), but Tyler Doanes scored to get the Hoosiers on the board. Doanes, the only Hoosier with three hits in the second game, singled in runs in the third and fifth innings before scoring again thanks to some help from the Evansville defense. After five, Indiana led 5-2.
Back on the mound, IU turned to Ryan Kraft to eat some innings. Kraft utilized excellent situational pitching (and maybe some luck) to hold Evansville at two runs until the sixth inning. Even there, Evansville could only score via a ball that cleared the fence. Despite giving up 7 hits and a pair of walks, the Purple Aces only scored that one run off Kraft's 93 relief pitches. It was a very encouraging day for the lefty after a lackluster performance against Xavier a week ago.
"Our staff is talented enough. It's good enough. It's not lack of stuff it's a lack of execution at times and today, those guys made a commitment. They met as a team beforehand, and you could tell it was a different group that walked out with confidence," Mercer said. "The execution of pitches today was just tremendous."
Ty Bothwell took over for Kraft with a 5-3 lead in the seventh, but, like some of the relievers in the first game, his outing was short-lived. He was replaced by Luke Hayden, but Hayden didn't fare much better. The two combined for four walks, one hit, two runs and two outs before Braydon Tucker was brought in to escape the jam. It was 5-5 after 7 ½, but the Purple Aces walked three in the seventh and Phillip Glasser sliced a single into left to put the Hoosiers ahead by a run for good in the seventh. Braydon Tucker then stayed in for the duration of the game and slammed the door on any Evansville comeback hopes. Evansville ended up leaving 16 runners stranded in the second game.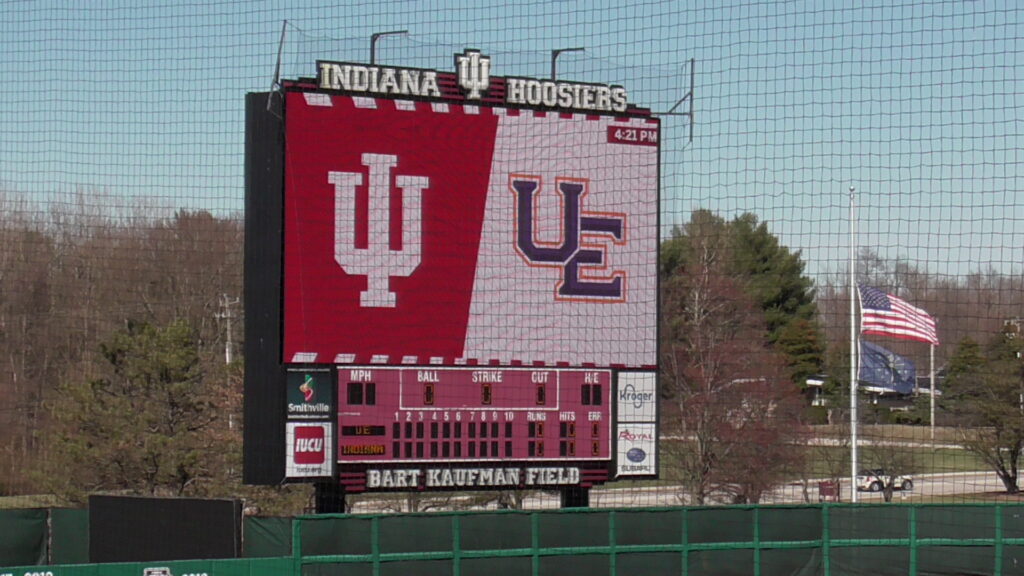 The two hard-fought wins were a welcome sight for a team trying to claw its way back to .500 again. They get a well-deserved week of rest before the start of Big Ten play next weekend, where they'll be home again for a three-game series with Northwestern starting Friday at 5 PM.