**Carl James evaluated the 2020 schedule when it was released in October. With Opening Day approaching shortly, you can revisit that evaluation below.

By Carl James • @jovian34 • Oct 22
Indiana University released its complete 2020 regular season baseball schedule earlier today. Bits and pieces have become known over the past couple of months including the headline series that will open up the season at Baton Rogue's Alex Box stadium in a three-game series against 2019 Super Regional qualifier Louisiana State (LSU).
📅 MARK YOUR CALENDARS 📅

The 2020 #IUBase schedule is here!

☑️ 29 Home Games
☑️ 23 Games vs. 2019 Top-100 RPI Teams
☑️ 19 Games vs. 2019 NCAA Tournament Teams

📝 https://t.co/X2emejty0w pic.twitter.com/mqIBHBky2d

— Indiana Baseball (@IndianaBase) October 22, 2019
This schedule as a whole has a predicted overall strength of schedule (SOS) roughly on par with what the Hoosiers have seen in recent years. The details vary though. A strong non-conference in 2020 makes up for what is (on paper anyway) one of the weakest Big Ten Conference (B1G) schedules the Hoosiers have faced since I've been tracking it (about 5 years).
Hoosier 2020 opponents had an aggregate 0.532 winning percentage in 2019. This is usually a good predictor of SOS for a 55-game slate. Some teams do better, some worse, but the aggregate is usually (but not always) close. If this holds, by my calculations, the Hoosiers would need to go at least 35-20 in order to have at-large range in the NCAA's Ratings Percentage Index (RPI) for a fourth straight NCAA tournament bid.
Bloomington area fans are in for a treat this season. The Hoosiers scheduled a record 29 games at Bart Kaufman Field. This includes weekend series with some tough competition including 2019 National Runner-up Michigan, an Illinois State team that gave the Hoosiers trouble in the Louisville Regional, as well as reciprocal visits from San Diego and Memphis.
The team of comparison to 2019 I chose is Michigan. Despite ending the NCAA Tournament one win shy of a national title, Michigan was a B1G member and among the official "last four in" with an RPI of 47th. The Wolverines also had neither a B1G regular season or tournament title. Michigan had more than 35 wins, but they were facing an overall weaker slate in 2019 (prior to the NCAA Tourney that is) than what the Hoosiers have billed. 35 Hoosier wins would likely give Indiana an RPI above what Michigan had last year before the selection show.
Below is a ranking of how each full weekend series stacks up from contribution to the SOS. Notice that two-thirds of the top-half are non-conference and the entire bottom half is B1G.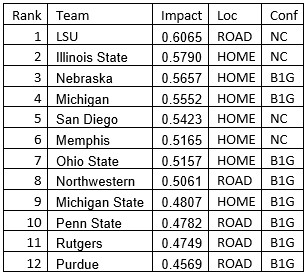 The Hoosiers miss Illinois, Iowa, Minnesota, and Maryland. These are all quality programs (ranked in D1 Baseball's Top 100) and the Hoosiers don't have to face them. Also notice that the Hoosiers 3 toughest B1G series are at home. I do need to add the caveat that the B1G can often be a surprise. Look at Purdue in 2018 as a great example. The early analysis though says that if the Hoosiers can perform well, this schedule will give them an edge in defending that B1G regular season title, while the non-conference will keep them in the hunt for an at-large bid.
2019 NCAA opponents breakdown:
Games against NCAA Finalists

: 3 (Michigan)

Games against CWS teams

: 4 (above + Louisville)

Games against Super Regional Teams

: 9 (above + LSU, Ole Miss, East Carolina)

Games Against Regional Teams

: 22 (above + Cincinnati, Illinois State, Ohio State, Indiana State, Nebraska)
For more preseason updates on the reigning B1G Champs you can follow iubase.com on Twitter @iubase17 , InstaGram @iubase or join the #iubase Facebook Fan Group.