by Cassady Palmer • @crpalmer0627 • Feb 23
photos by Audrey Deitrich • @DeeDeeTrick
Hoosiers strikeout 21 times in the shutout against the Volunteers, a new record for Tennessee pitchers.
Tennessee remained dominant on the mound as the Hoosiers were held to no runs on three hits. The Hoosiers, meanwhile, were sloppy in their play, walking 11 batters, throwing four wild pitches, and committing three errors. Add to this the fact that the Vols clobbered 40% of their hits for extra bases and it made for a rough night for Indiana.
Tennessee took a 2-0 lead in the 2nd inning and never really looked back. After another two runs in the 4th, the Vols really broke it open with a four-run 8th inning. They added some unnecessary insurance runs in the 7th (thanks to a pair of walks and wild pitches) and the 8th (thanks to a trio of walks and the third error of the game).
None of the Indiana pitchers looked particularly great, as each gave up at least one earned run. Tanner Gordon lasted 4.1 innings, surrendering five runs (four earned) on five hits with four walks. Braydon Tucker finished out the 5th inning with a pair of hits, a walk, and an HBP, resulting in another three runs (two earned). Braden Scott made his Hoosier debut, and went two innings, giving up one run on two hits and three walks. Matt Litwicki finished off the game with a hit and three walks resulting in two runs (one earned).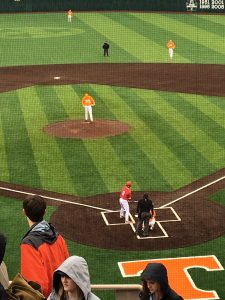 The Hoosier offense, on the other hand, was held hitless until the 5th inning when Sam Crail drilled a triple to right field. He was left there after a shallow fly out and a pair of strikeouts. The only other Indiana hits came from Drew Ashley and Wyatt Cross, both singles and both stranded. Seven different Hoosiers had multiple strikeouts on the game, five of whom had at least three.
Indiana also had a chance in the 7th inning when they loaded the bases on the second wild pitch strikeout of the game followed by a pair of HBPs. But once again the Hoosiers were unable to bring in the run. Jeremy Houston and Cole Barr were the only Hoosiers to reach multiple times, as Houston drew a walk in his first plate appearance and was plunked in his third, and Barr was plunked in both the 7th and 9th innings.
Despite the slow offensive game, the Hoosiers had opportunities, with 12 plate appearances with runners in scoring position; they struck out in nine of those at-bats. The Volunteers had 31 such plate appearances and they collected six hits, seven walks, and a pair of sacrifices.
Indiana will look to avoid the sweep on Sunday, as Tommy Sommer makes his second weekend start. He will match up against Will Neely, a hard-throwing right-hander.