Hoosier pitchers set B1G Tournament record with 18 strikeouts, but come up just short

by Carl James •

@jovian34

• May 26th, 2022
OMAHA, NEBRASKA – It was a game with a story arc that in many ways paralleled the Indiana 2022 Baseball season as a whole. Indiana was down early, looked to be out of it against a superior opponent, fought back hard, but didn't quite do enough in the end to come up with the victory. It was a wild ride and a game that went back and forth and ended on hit batsmen with the bases loaded in the bottom of the eleventh inning with Maryland on top 6-5.
Maryland, the Big Ten (B1G) Champions, 1-seed in this tournament, and number 10 team in D1Baseball's top-25 came in with a lot to play for. Many pundits expect a top-8 national seed for the NCAA Tournament for Maryland, but a poor showing in Omaha could ruin those plans. Indiana came in with the only way to extend their season was to win the B1G Tournament and history shows that winning the tournament almost always requires staying in the winner's bracket.
Indiana went all-in. Indiana was determined to do whatever was possible to win this game. Coach Mercer started lefty junior Ty Bothwell. After the game, Coach Mercer said about Maryland, "They hammer balls down." He elected to go with pitchers whose profile was effectively throwing a high mix of fastballs up in the zone. Bothwell in particular has excelled at this. Bothwell struck out 6 Terrapins in 3.1 innings of work, but also gave up 7 hits and 4 runs, all earned.
Coach Mercer then elected to go to Reese Sharp, who in recent weeks has been used much later in games. Sharp was downright electric. After the game Sharp described what was working for him, "Being able to execute a fastball to both sides of the plate and at the top of the zone with two strikes really set the tone. I was attacking guys, not giving any free bases. Being able to land a breaking ball." Sharp pitched 5.1 innings in total and did not give up a run until the bottom of the 10th inning.
Sharps efforts gave Indiana's offense an opportunity to fight back. Maryland's Jason Savacool seemed to have his way with the Indiana hitters, inducing a ton of weak contact and not even getting into any trouble through the first five scoreless innings. Mercer said Savacool "Is arguablly the best pitcher in the league." and "Savacool has a really good sinker, a legitimate sinker and you can practice it and you can talk about it, but until you get in the box, and force him to get it up and make adjustments and stay in your legs and stay on it which we eventually did. It's just a little different animal. The second and third time through we got better and better at it."
In the sixth inning Tyler Doanes and Peter Serruto lead off with back-to-back hits which lead to Doanes scoring. In the seventh Carter Mathison added a run with a solo home run. Then Ellis and Doanes singled. Ellis came home on a balk call and Doanes scored again, this time via a Phillip Glasser RBI single to tie the game.
The Hoosier took the lead in the top of the tenth inning when Evan Goforth had a pinch hit walk and eventually scored on a Hunter Jessee RBI fielder's choice. The Hoosiers had an opportunity to expand that lead with a runner on third with one out but a double play ended the threat. In the bottom of the inning Sharp gave up a lead off double. Mercer chose to go to Jack Perkins who gave up an RBI single to allow Maryland to tie the game. An error put a runner in scoring position with no outs, but Perkins managed two key strikeouts and then Tyler Doanes ended the inning by catching a liner to force the eleventh inning.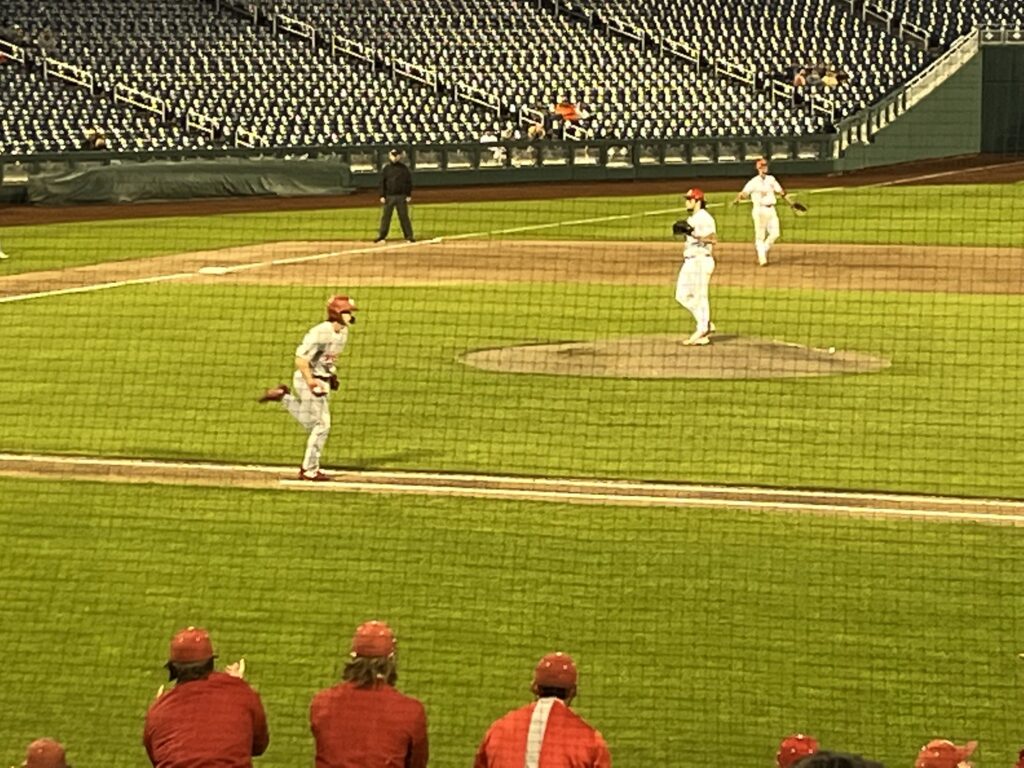 Using Goforth as a pinch hitter for Serruto in the 10th and moving Matthew Ellis to catcher eliminated Indiana's designated hitter and put Jack Perkins in the batting order. Matthew Ellis got thrown out at home after a Doanes single and Perkins made his collegiate hitting debut and couldn't quite leg out and infield single after a swinging bunt. Another lead-off double in the bottom of the eleventh was unable to be overcome. The bases ended up loaded, and although Perkins managed one out via the strikeout, a hit by pitch scored the winning run for the 1-seeded Terrapins.
Indiana will play the third game on Friday which will be approximately 6pm ET. This will be an elimination game against the loser of Michigan/Illinois. As of the time of this writing Michigan is leading 4-3 in the bottom of the 6th inning. Coach Mercer said the Bradley Brehmer, Braydon Tucker, and Ryan Kraft are likely to be in the pitching mix for Friday's game.