Another great outing by Indiana pitching wasted by poor defense and hitting
By Carl James @jovian34 February 25th, 2023
There is really no other way to put it – Indiana's position player group had a mostly awful day in Austin today. Only two hits and 3 costly errors. Texas pounced when given opportunities and Indiana hit 3-1 pitches into the ground for rally killing double plays.
Indiana's pitching has been remarkable. The only thing that was lacking last week was solid starts on Friday and Saturday. This week, they got both and they still have Luke Sinnard and Ty Bothwell available for Sunday. The Hoosiers surrendered only two earned runs today.
Seti Manase gave up one unearned run in 4 full innings of work. That came in the first when Carter Mathison dropped a relatively routine fly ball in deep right to allow Eric Kennedy to get to third with no outs. Kennedy would score on a fly ball, but Manase managed the damage, with a bit of help from Hunter Jessee who made a heads up play to cut down the other advancing runner while Kennedy scored.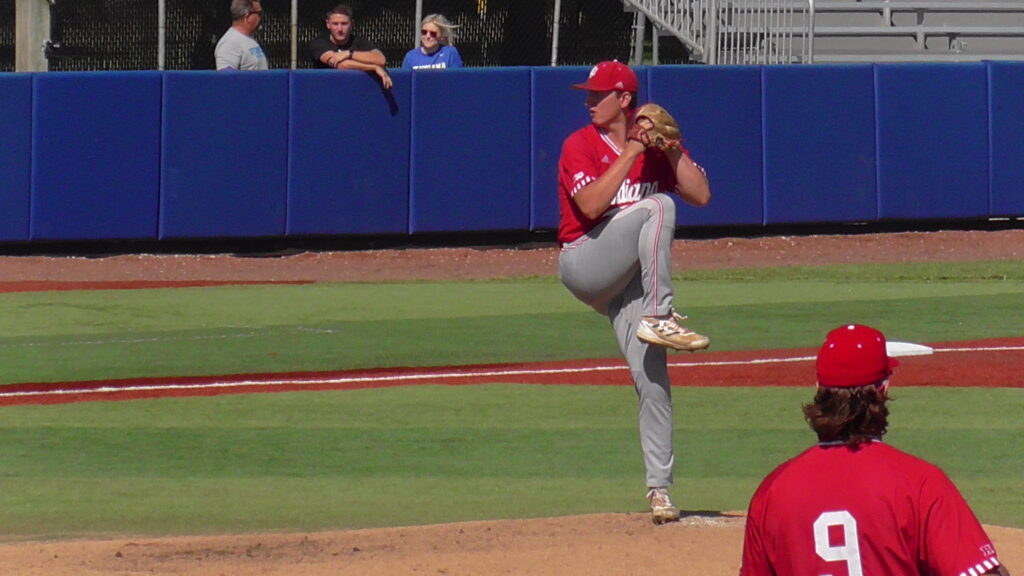 Ryan Kraft would earn the loss for his one inning of work in the fifth. He gave up 4 runs (2 earned) on three hits and two walks. Kraft set the table by walking two and giving up a bunt single. A couple of poor plays on infield ground balls would have allowed at least one run to score, but also would have given Kraft an opportunity to significantly limit the damage had Brock Tibbitts and Evan Goforth exectuted outs on the balls hit to them. Instead the inning snowballed and Texas took a 5-1 lead into the sixth inning and never looked back.
Craig Yoho, Luke Hayden, and Evan Whiteaker each managed an inning of no-run, no-hit ball. In total, Texas managed only four hits on the day. In total Hoosier pitching allowed only four hits in total.
Indiana's bats were even less effective than Texas, and the timing was worse. The Hoosiers have been hitting the ball on the ground a lot this season, and this series has had multiple big inning opportunities brought to an end by grounding into inning-ending double plays. The positive piece of this is the overall lower strikeout rate, but in the moments, the double plays have had the effect of bailing out Texas pitching, which is reportedly not that deep, again and again.
There were a few bright spots for the position player group. Freshamn Jorge DeGoti got a hit in his first at bat as a Hoosier. Josh Pyne made a spectacular catch diving into the stands in fould ground. Pyne also had a pair of hard hit balls in the air that were loud outs on a day filled with mostly soft contact. Hunter Jessee extended his on base streak to 25 games with a walk in the sixth inning.
Texas has now clinched the series, but not at all in the way that would have been expected. The Hoosiers will attempt to duplicate what they did last week at Auburn and salvage a victory on Sunday at 1pm.