Indiana completed their first series sweep since 2021 defeating the Bellarmine Knights 3-2 in a pitcher's duel
By Carl James @jovian34 March 12th, 2023
If you follow college baseball closely, you know that the last day of the series tends to have one or both teams scoring lots of runs. Stretch that into a 4-game series and its even more so. Consider that Indiana was playing their fifth game in five straight days and that the Friday starter only pitched 1.1 innings, and the last thing you would expect would be a combined five runs scored on Sunday.
Well that is precisely what happened. Bellarmine's Gavin Braunecker was fantastic, mostly scattering Hoosier hits in giving up only 2 earned runs in 6.1 innings of work while striking out six. He was tagged with the loss, but he gave the Knight's aggressive offense a real chance to mount a comeback which fell just shy in the ninth inning.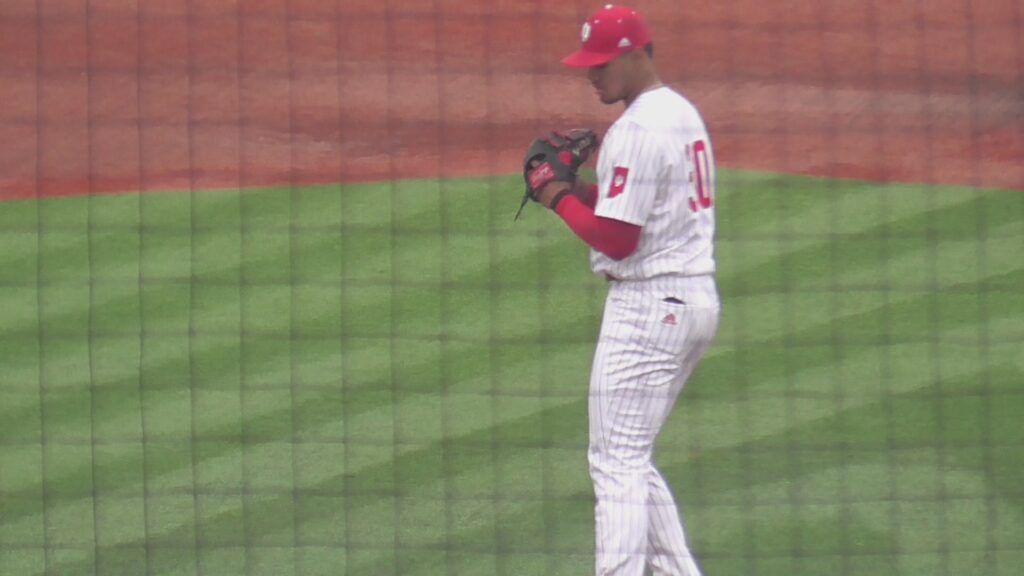 Indiana's Seti Manase held the Knights scoreless through 4.1 innings, striking out seven along the way. He mixed his pitches up well, with a heavy off-speed mix including a 77 mph breaking pitch, the bulk of his off-speed in the low 80's and occasional fastball touching 87.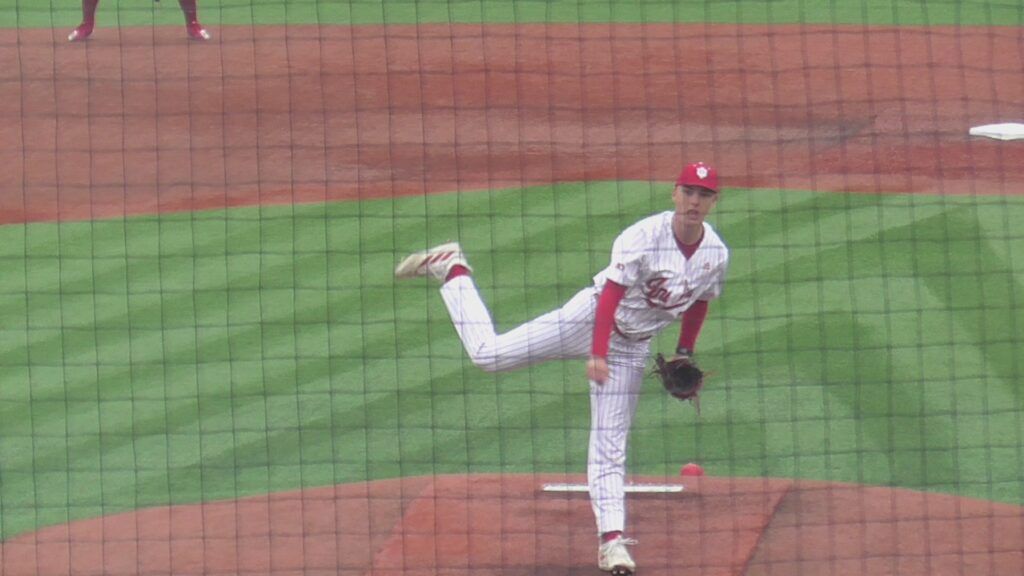 He was followed up by Evan Whiteaker who had similar off-speed timing but was hitting 91 with his fastball. Whiteaker retired the first eight batters he faced, striking out two. The only baserunner he allowed was a lead off walk in the eighth inning, concluding one time through the order. Ryan Kraft was brought in for a 6-out save, which he got, not with some drama, to record his fifth save of the season.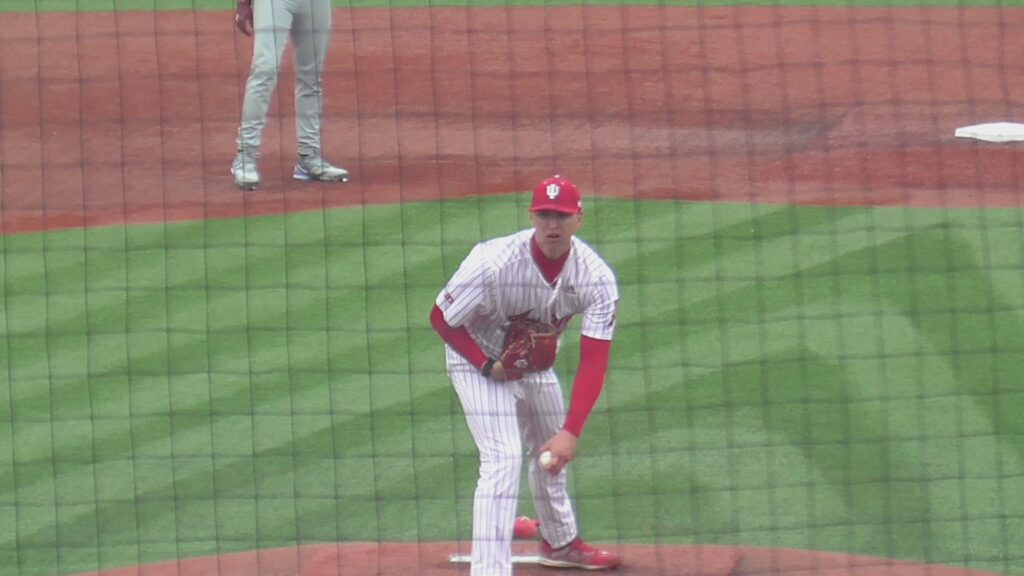 The ninth inning drama started with on an errant throw from shortstop Phillip Glasser. A single and a double later and the tying run was in scoring position with one out. A fielder's choice put the tying run 90 feet away with two outs, but Kraft induced another another hard hit ground ball that Tyler Cerny stopped and Brock Tibbitts collected the hurried throw to record the out and prevent the tying run from scoring.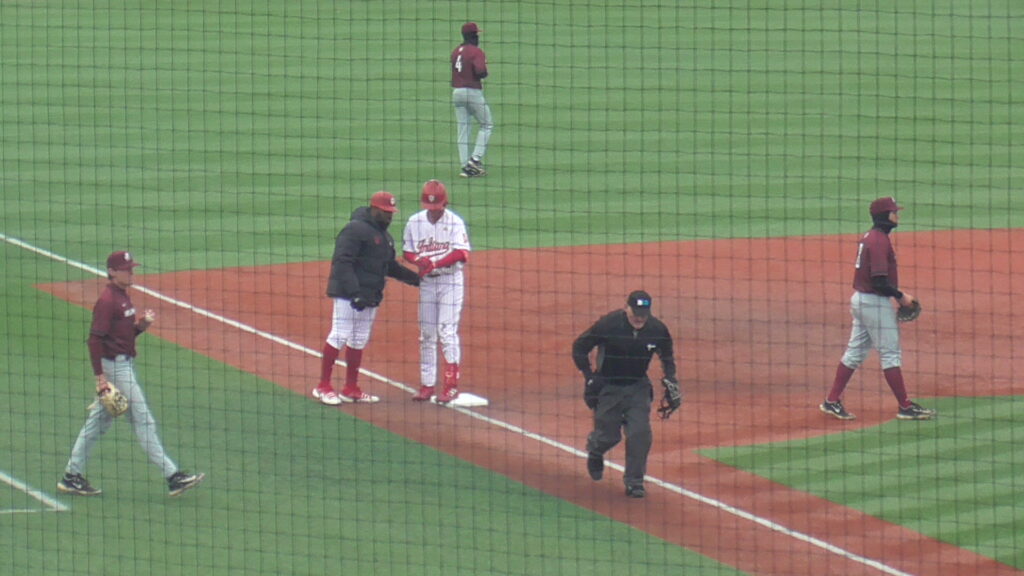 Cerny had the big bat of the day. The freshman second baseman was three for four on the game, scoring two of Indiana's three runs. His biggest hit was a two-out triple in the fifth inning.
Dive and catch! 🤯@_joshpyne_ | #IUBase pic.twitter.com/uo5Lh0RZVJ

— Indiana Baseball (@IndianaBase) March 12, 2023
Except for the one error in the ninth, the Hoosier defense was excellent including a diving catch by Pyne and multiple throws bounced but scooped up by Brock Tibbitts at first base.
After the game, coach Mercer was very pleased with the pitching and defense, but recognized that the offense needs to do more and should be doing more. "We have to get more guys going. Right now what we have is three or four guys going and then a stopper. We need consistent bats throughout." Mercer went on to say that players are aware of the higher offensive expectations and when things don't go well they, "press… swing out of the zone… make mistakes". He's confident the team can work through this and get back to level of offensive production they showed in the final two months of the 2022 season.
Next up is a midweek road trip to an SEC ballpark on Tuesday at 5pm against Kentucky.