Hoosiers light-up Spartan Ace Erla for a dominant 8-2 win to open the first true road series.

by Carl James •

@jovian34

• March 26th, 2021
The stage was set for a Friday pitcher's dual. On the Spartan side was highly touted right handed pitcher Mason Erla. For the Hoosiers: the consistent senior lefty Tommy Sommer took the bump.
Both pitchers got into trouble in the first. Erla got bailed out when Drew Ashley got thrown out at home trying to score from second on a Cole Barr single. Ashley's lead off-hit marked the 37th game in a row that Ashley got on base. The Hoosiers would not score in the inning.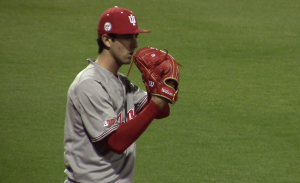 Sommer allowed a base runner in each of his five innings, but managed to limit Michigan State to only two runs before handing the ball to Braden Scott who took over in the sixth inning.
The Hoosiers put Erla into trouble in the fifth inning. Morgan Colopy got the inning started with a single. Houston bunted Colopy into scoring position. Ashley then hit a ball to the outfield that misplayed for an error. Kip Fougerousse drove in a run with groundout. Then the Hoosiers unloaded with three straight hits to take a 4-1 lead. Because of the errors none of those runs were earned.
In the sixth the Hoosiers really got to Erla. A single and two hit batsmen loaded the bases for Barr who walked in a run. Erla handed the ball to the bullpen. Paul Toetz capitalized with a three RBI double that busted the game wide open.
Scott walked three in the sixth but worked out of the jam. The seventh inning went much better as Scott set them down 1-2-3. Reese Sharp had the ball the rest of the way. The eighth was a breeze, but the ninth was tougher as Sharp walked two before ending the game with his third strikeout.
The win brings Indiana to 10-2 on the season and allows the Hoosiers to maintain first place in the Big Ten standings.