By Max Heath • @max_heath • May 18
It came down to the final game of the season, but first year head coach Jeff Mercer and the Indiana Baseball team clinched the Big Ten regular season championship after beating Rutgers on Senior Day 13-3.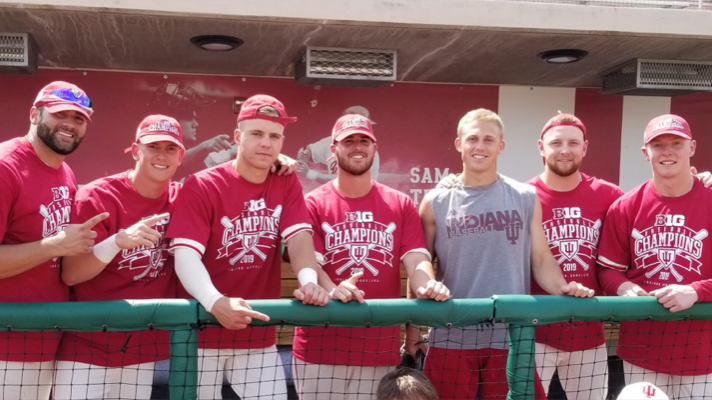 Andrew Saalfrank started this one while he didn't have his sharpest stuff, he exhibited a much more important facet of his game and that was his ability to battle. Rutgers opened the first with an RBI single from Kevin Welsh to give the Scarlet Knights a 1-0 lead early.
Uncharacteristically Indiana was held hitless until the fourth until Senior Matt Lloyd slapped a groundball for an infield single and the Hoosiers awoke from a seemingly timid slumber in the first three innings.
A huge double from Cole Barr scored Lloyd, evening things up at 1-1 a piece. The seal was broken, and the Hoosiers were off to the races. Ryan Fineman plated one with an RBI single and then a pair of two-RBI singles from Justin Walker and Drew Ashley gave Indiana a 6-1 lead at the end of the fourth.
Rutgers was quick to respond with a two-run blast from none other than Kevin Welsh who hadn't hit a home run all year, until this weekend in which he hit three in three days. The score was 6-3 and with the Hoosiers hopeful for a win to clinch the conference crown, yet they knew they needed more.
Cole Barr answered Rutgers' two-run jack with one of his own in the fifth, opening up an 8-3 lead and giving Andrew Saalfranka cushion moving forward.
Saalfrank contributed six innings of six-hit baseball, striking out six and allowing three earned runs. Gabe Bierman was his replacement and threw three dominant innings striking out four.
Ryan Fineman added a run after hitting into a fielder's choice and Grant Richardson singled to score one more, making it a 10-3 ballgame after seven. Some pitching blunders from Rutgers gave Indiana two more in the eighth . Cole Barr took a pitch off of his helmet to walk in a run and Elijah Dunham took home on a wild pitch. Scotty Bradley added the 13th run on a sac fly and Bierman shut the door in the ninth giving Indiana the conference title.
Indiana finished the regular season with an overall record of 36-19 and a conference best 17-7 record. Jeff Mercer and company are not even close to being done yet with the Big Ten tournament still to come and a chance for some revenge in the postseason after a tough ending last year.
The Dog Pile
Jeff Mercer Postgame