By TC and Lisa Bradley • @starbaseBradley / @JRand1970 • Oct 28
On Sunday, IU played a 7-inning, two game set with Cincinnati at Marge Schott Stadium.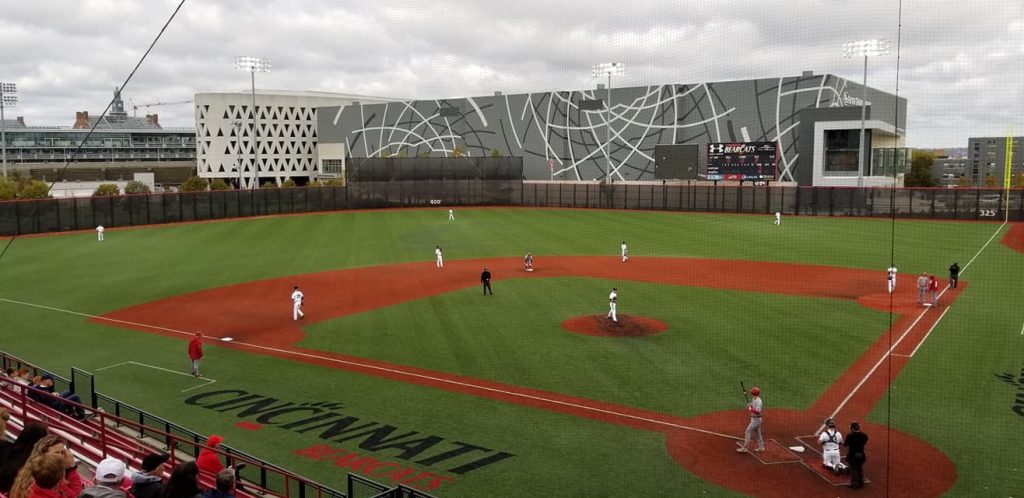 The weather started out windy, cloudy, and a bit cool, but Gabe Bierman was anything but cool. He started the first game and went 4 innings, giving up only one hit and no runs. McCade Brown entered in relief and pitched two innings. Brown struggled a bit with control and gave up a run with a pitch down that Voth was unable to handle and tallied a passed ball. Grant Sloan came in to close it down in the 7th inning and held the Bearcats scoreless in the frame.

This first game was all about the pitching on both sides. The Hoosiers had some trouble hitting the Cincinnati pitching staff, but Ethan Vecrumba was able to get on and scored the tying run on an E6 fielding error.

The teams moved to the second game with no break. Braydon Tucker started on the bump for the Hoosiers and went four innings with no runs and three hits. Ohio native Nathan Stahl followed Tucker with two very efficient innings, also scoreless. This game was closed out by David Platt with more scoreless baseball. The offense fared better in this game with hits, walks, and an HBP; these base runners came home on sacrifice RBIs by Grant Richardson and Ethan Vecrumba. Hunter Jessee pushed across another run to give the Hoosiers a 4-0 win.