By Chris Feeny • @iubase17 • Sept 4
Several new players taking the field at The Bart this Fall. Here are some jersey numbers for those keeping score at home.
Also a few jersey number changes from 2019. As more come in another update will follow.
(35 man Roster is not finalized until February.)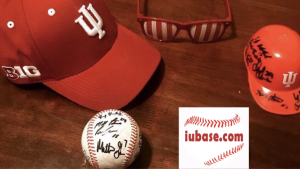 IF Drew Ashley #3
IF Paul Toetz #5
OF Ethan Vecrumba #7
IF Cooper Trinkle #8
RHP A J Hacker #10
C Collin Hopkins #11
IF/RHP Grant Macchiochi #12
RHP Nathan Stahl #14
RHP David Platt #15
OF Eli Dunham #17
1B/OF Jordan Fucci #21
C Brant Voth #23
C Hunter Combs #26
OF Ryan Fisher #28
RHP John Modugno #30
LHP Jack Walker #31
RHP Joe Wilkinson #33
LHP Ty Bothwell #41
Also, three Fall Ball Games have been announced so far. Details are below.
And if you missed the latest video update on The Talking Hoosier Baseball YouTube Channel you can check out a position preview of the newcomers here.