Hoosier lose yet another game where they outhit the opponent

by Garrod Creech •

@creech_garrod

• March 26, 2022
The Hoosiers failed to keep pace with Evansville in a high-scoring Friday night affair, losing 17-14 in the opener of their weekend series.
Jack Perkins opened the game for the Hoosiers, but he was rocked early and often by the Purple Aces' potent offense. Evansville set the tone of the day in the first, taking Jack Perkins' second pitch of the day deep over the left-field wall. They took Perkins deep to lead-off a four-hit, six-run second as well and ran him out of the game before he could finish the fourth. Ultimately, Perkins gave up seven hits and nine runs. Four of those were technically unearned thanks to a pair of errors (on a cold, slippery field) in the big innings, but he was getting hammered anyway. Perkins, who has 41 Ks in 33.1 innings thus far this season, finished with just two strikeouts and five walks.
"The scouting report gets out a little bit," said Coach Mercer of Perkins rough outing. "Guys are able to watch video, and [he] fell behind in the count a couple times. You get into more hitter's counts, and everyone's hittable in hitter's counts. When those things happen, ya know they're a veteran group and they were able to put good swings on it."
Perkins was still in the game though in part because the Indiana offense was scoring with ease. Despite his trouble throughout the early frames, Perkins took the mound in the fourth with a 2-run lead. A three-hit two-run first inning and a three-hit four-run second for the Hoosiers kept them out of obvious danger and down just one going into the third. Brock Tibbitts launched a leadoff solo shot to tie the game in the bottom of the third, and Tyler Doanes put the home team in front 9-7 with a two-run home run later in the same inning.
"It obviously was a hitter's night tonight, on both sides, with ya know fast track, rain, and the wind blowing out," said Mercer.
In the fifth inning, now tied 9-9, Indiana went small ball to tack on a couple more. Tibbitts led off with a single up the middle, his third hit of the game. Carter Mathison followed with a beauty of a bunt single down the third baseline, and Sam Murrison bunted them both over. Hunter Jessee walked to load the bases, and Phillip Glasser walked a run in. Bobby Whalen followed by beating a tough throw for an infield single, and the Purple Aces walked in another run despite a pitching change to make it 12-9.
Alas, their lead was not long for this world. Evansville opened the top of the sixth with their third leadoff homer of the game, this time off reliever Grant Holderfield. A single, a walk, and another home run ended Holderfield's day (1.2 IP, 4 H, 2 walks, 4 ER) and marked the game's final lead change. Braydon Tucker was solid in place of Holderfield for a couple of innings. He ran out of gas in the eighth though, where the Purple Aces all but put the game away with four more runs despite admirable relief from Nathan Stah.
Though the result was again disappointing, the Hoosiers outhit Evansville 16 to 13 and showcased their ability to score lots of runs quickly. Everybody who got an at-bat got at least one hit. Josh Pyne is now riding an eleven-game hit streak and Phillip Glasser has reached base safely 20 games in a row. Young players are making big plays, and the future is bright for IU baseball.
But walking away with a loss getting on a Friday night after scoring 14 runs should still sting.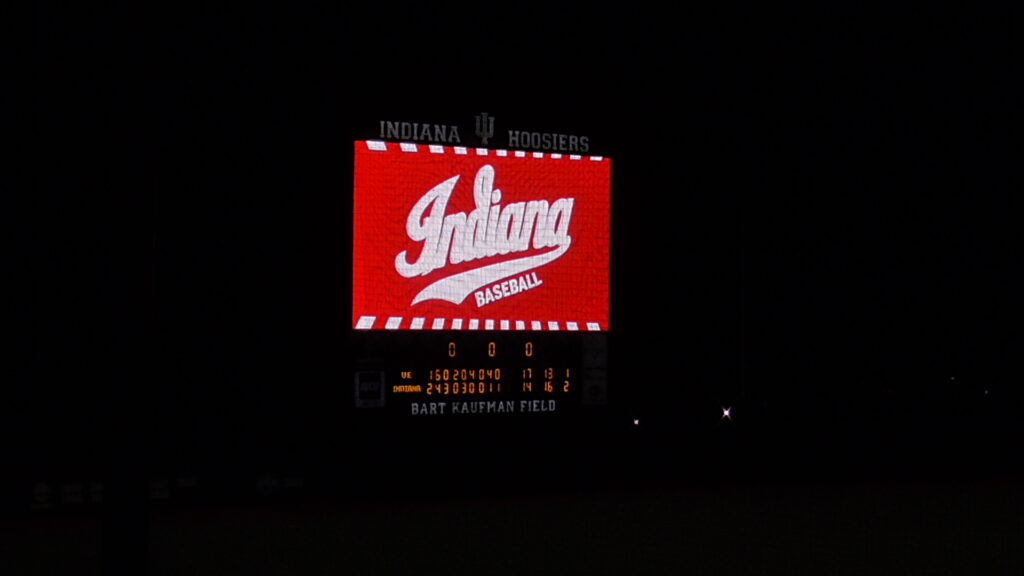 The Hoosiers (8-13) have dropped 7 of their last 9 and are still searching for answers. They'll look to get back on track in game 2 against Evansville Sunday at 1 PM. Catch the rest of the series on B1G+ or follow the iubase.com team for updates.