Hoosier Baseball finished the B1G Ten Regular Season with the #5 seed and will start its postseason in Omaha,Nebraska at TD Ameritrade Park around 10pm est against #4 seed Illinois on Wednesday night.
You can check out the Final B1G Standings here:
| Place | Team | Record | GB |
| --- | --- | --- | --- |
| 1 | Minn | 18-4 | - |
| 2 | PU | 17-6 | 1.5 |
| 3 | Mich | 15-8 | 3.5 |
| 4 | Ill | 15-9 | 4 |
| 5 | IU | 14-9 | 4.5 |
| T6 | Iowa | 13-9 | 5 |
| T6 | OSU | 14-10 | 5 |
| 8 | MSU | 11-12 | 7.5 |
| 9 | Mary | 9-14 | 9.5 |
| 10 | Neb | 8-14 | 10 |
| 11 | rut | 7-16 | 11.5 |
| 12 | Nwstn | 6-18 | 13 |
| 13 | PSU | 3-21 | 16 |
How does this Tournament work?
The B1G Ten Tournament is an 8 Team double elimination tournament which includes a bracket switch after Friday.
It is split into two brackets of four teams. Hoosier Baseball is in the evening side of the bracket with Illinois, Michigan State and Minnesota. The winners will play each other Thursday as well as the losers.
The team that wins the 'winners' game on Thursday night earns a day off on Friday and then plays the team from the other side of the bracket that is 2-1 on Saturday.
The team that wins the 'losers' game plays on Friday against the other team who is now 1-1 to try to advance to Saturday with a 2-1 record.
Following so far? Good. They'll be a test at the end.
The other side of the bracket includes Ohio State, TTNTWR, Michigan and Iowa.
By Saturday, there will be four teams left but only 2 of them will start the day undefeated. Those teams will only have to win once on Saturday. The team matched up against them will have to beat them twice in order to make it to Sunday.
Two teams will play on Sunday at 2pm for a ring and a trophy. Whether they have a 3-1 or 3-0 record it's winner take all.
I know it sounds complicated but basically if you win your first two games you have a real advantage come the weekend.
Forget all that, when are the games gonna be and how can I watch them?
All games will be on The BTN Network and the BTN 2Go App.
As far as Hoosier Baseball goes its 10pm est on Wednesday night vs Illinois.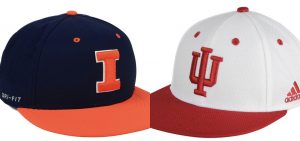 Then if we win, we will play the winner of Minnesota vs Michigan State Thursday at 10pm
If we lose, we play the loser of Minnesota vs Michigan State Thursday at 2pm
Lose a second game anytime and it's time to check out of the hotel.
Win Wednesday and Thursday it's sightseeing only on Friday and Saturday's game will be against either Iowa,OSU,TTNTWR, or Michigan at 10am
If we end up playing on Friday it will be at 8:30pm. If we win that we'd have to beat either Iowa,OSU,TTNTWR, or Michigan twice on Saturday and the first game would be at 2pm.
What do we know about the teams on our side of the bracket?
Illinois
(31-18) (B1G – 15-9)
(Nuetral sites 6-3)
B1G Ten Player of the year 1B Bren Spillane. He won the B1G triple crown with .407 avg, 22 HR, 57 RBI's and his .935 slugging leads the NCAA.
Excellent veteran closer – Joey Gerber- 14 saves
A+ Defense up the middle that they showed off against us at The Bart over and over
Starter – Quinn Snarkis 6-1 ERA 3.06
Started the Saturday game at The Bart for Illinois . Pitched 7 innings gave up 1 run and 7 hits.
In 67 innings he has just allowed 10 extra base hits 9 doubles and 1 long ball
Season Series
Hoosier Baseball Won 2-1 At The Bart
Minnesota
(37-13) (B1G – 18-4) (Nuetral sites 7-0)
Big bats throughout the lineup. Can go deep in any part of it which we learned in our series out there.
Great baserunning team and excellent with RISP.
Tevrin Vavra – SS – MLB Draft ready – .387 avg – 50 RBI's – 115 total bases
Probable starter if we play them in game 2
Patrick Fredrickson
B1G Pitcher of the year – 8-0 ERA 1.80
80 innings 16 er 3 HR's
Season Series
Gophers swept it 3-0 in Minnesota
Michigan State
(20-30) (B1G – 11-12)
(Nuetral Sites 2-5)
Marty Bechina 3B
Leads team in all 3 with 8 2b, 6HR and 23 rbi's
The Spartans lead the conference with 96 steals
They've played 14 one run games finishing with a 6-8 record in them
Probable starter if we play them in Game 2
Mason Erla
6-4 ERA 3.91
has pitched 6 games with at least 6 inning and as little as 2 runs
Season Series
No games in 2018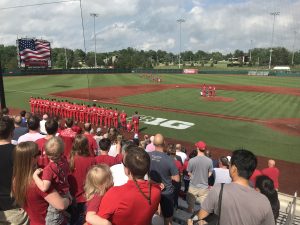 Can Hoosier Baseball really be playing for a ring on Sunday afternoon at 2 pm in those 'Sunday Reds'?
Absolutely. The offense is hotter than it's been all year, we have the deepest pitching staff in the field, and defense travels well.
Execution,Execution,Execution.
It'll all come down to that. We have the bats, the gloves and the arms but have to play smart and if we are down in a game not try to get it all back at once. We should be able to outlast most of these bullpens in a setting like this especially on day 3 or 4.
If your making the trip please send along pictures or videos and we can share them. Feel free to send them to @iubase17 on Twitter or to chris@iubase.com
Thanks and Go Hoosiers !
#iubase
— CF