Hoosier Baseball comes back to The Bart coming off a thrill ride of a victory in Louisville and currently on a three game road winning streak. Feels like things are kicked back into gear just at the right time.
But in baseball they do say Momentum is really only as good as your next day's starting pitcher.
Sounds Good to me.
Hoosier Baseball (34-15)
vs
Maryland ( 24-27)
Thursday Now a 6pm Start
Pitching Matchups via IU Game Notes
https://s3.amazonaws.com/sidearm.sites/iuhoosiers.com/documents/2018/5/16/G50_Maryland.pdf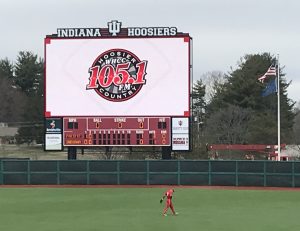 Greg Murray Play by Play Link
http://mgmt.firststreaming.com/listen/iphoneredir.php?callsign=WHCC_FM
IU Team Stats
http://iuhoosiers.com/cumestats.aspx?path=baseball&year=2018&
UM Team Stats
http://www.umterps.com//ViewContent.dbml?DB_OEM_ID=29700&CONTENT_ID=2144336
On This Date in 2013
May 17th
Hoosier Baseball claimed a share of the B1G Ten Title for first time since 1932. It took coming back from down 2-0 in the top of the 9th in Columbus to do it. ‬
‪You can read the Game Recap from IUHoosiers.com here
‪http://iuhoosiers.com/news/2013/5/17/Hoosiers_Claim_Share_of_B1G_Title_for_First_Time_in_64_Years_With_Epic_Road_Win.aspx‬
'Now the 1-1 … High into left field, pretty deep left field, Nickens back, It is GONE! A GRAND SLAM!' – Greg Murray
The last time Hoosier Baseball played Maryland we split the first two games and were down 3-2 the 7th inning of Game 3 on Sunday until this happened.
But if great play by play calls (Greg Murray) and brilliant video work (Megan Bastedo) are more your thing there's always this
Some people are strictly into numbers so here's this too
Future Hoosiers
And in case you missed it, no better time than now to make sure you know that two Future Hoosiers were selected to wear USA across their chest this summer in The Tournament of Stars .
U ! S ! A !
Talking Hoosier Baseball
Here's a link to Talking Hoosier Baseball Episode 15 for some more of a Series Preview, B1G and NCAA Tournament implications for the weekend, and a little send off we did for the Seniors.
Part of me feels like we were just sitting there freezing at the Home Opener watching John flip that scoreboard out in rightfield over and over again for The Bearcats. But the reality is there's just these three left for 2018 At The Bart.
That's it That's all.
If you can, get there early on Saturday for the Senior Ceremony. Should start about 1:30pm.
We ended the road version of the schedule handing out three consecutive Win T Shirts. No reason not to do the same for the home schedule. Send The Bart out right for 2018.
Go Hoosiers
#iubase
— CF