By Josh Bennett • @jmbennett22 • March 13th
The Hoosiers come into this weekend's four game set against the Canisius College Golden Griffins a game below the .500 mark at 7-8 as they dropped a midweek game in Cincinnati 7-5.
On Friday the Hoosiers will be back at The Bart for the first time since February 27th, to host Canisius College. They are members of the Metro Atlantic Athletic or MAAC conference and come into the series with a 4-10 record, which as you might have guessed from their location have all been on the road the entire season. The Golden Griffins come into this series with an RPI of 202.
Offensively, Canisius does have 5 players batting over .250, but none over .300. They are led by Jake Burlingame at .293, but have very little 'pop' with only 6 HR as a team, and are only hitting .226 collectively.
Defensively they have a .958 fielding percentage which is the same as ours…. so means we should have an opportunity to score some unearned runs.
On the pitching side, they really don't have a set rotation, and seem to be piecing things together, maybe even an opener approach.
Last Fridays starter Jerod Burmaster is 0-3, but pitched in relief on Sunday. 8.2 innings on the year. Nolan Hunt should be the best we see all weekend. He started last Saturday but also came out of the pen. A 1.00 ERA with 9 IP on the season.
As a staff they are giving up 6 runs per game, and a .291 BA.
Fairly decent forecast for the weekend… should be dry, but cold. Friday 45 for a high at first pitch, 44 for Saturday, and a little warmer at 51 on Sunday.
Schedule Change
Friday has been moved to a 4pm start.
Doubleheader on Saturday starting at 12:05.
Sunday's first pitch has been moved up to 12 noon.
Pitching Matchups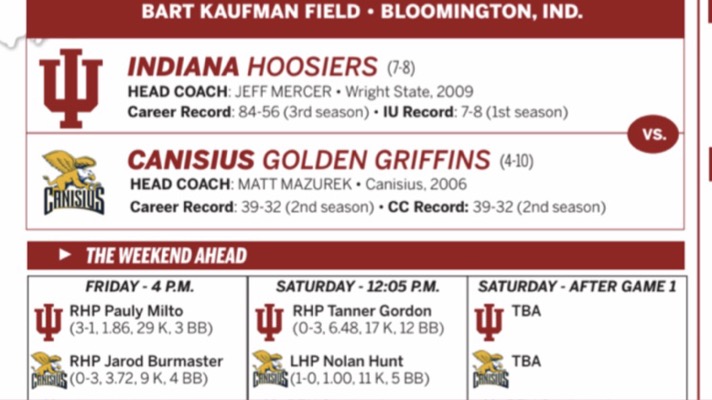 via Indiana Game Notes
Game 2 Saturday and Sunday Starters still TBA
On the Air
Indiana Univeristy will be providing an audio play by play link via Hoosier Country 105.1.
If there are no conflicts with Men's Basketball the game will broadcast over the radio as well.
There is also a video feed for the series in which a paid subscription is required. It is called Flo Live
Team Rosters / Team Stats
Indiana
Canisius
Here is the latest episode of Talking Hoosier Baseball
Here are five series over the weekend important to Hoosier Baseball for Scoreboard Watching brought to you by Carl James