by Max Heath • @max_heath • Mar 15
It was a shaky start for Indiana, giving an early 1-0 lead to Canisius, but the Hoosiers' bats were not to be outdone. They ended the day with season-highs in both hits and runs with 18 to take game one by a score of 18-6.
Canisius was just out-muscled in this one. They had a breakthrough fourth inning where they managed to squeak in four runs. A misplayed pop-up between Jeremy Houston at shortstop and Cole Barr at third led to a run. Then, it was Barr again who had a groundball hit to him at third, and he couldn't get the tag on the runner advancing to third. Jeremy Houston then pulled Matt Lloyd off the bag with a bad throw that led to another run.
It was sloppy mistakes that provoked that four-run inning, not Pauly Milto's pitching. Milto didn't have his best stuff, but he didn't need it. He competed for six innings, got the outs he needed and let his teammates pick him up with their bats. Milto's willed his team to victory countless times, so it was fitting for his team to have his back.
Indiana's plate production came from some familiar faces. Matt Gorski went 4-5 with two doubles and an RBI for his sixth multi-hit game of this early season. However, it was Ryan Fineman refused to be second fiddle to Gorski. Fineman went a perfect 3-3 with five RBIs, two of which came from a line drive homer to center field.
The senior catcher found the long ball in the fifth, but it was freshman Grant Richardson who followed it up in the sixth. Richardson hit his first homerun of his young career with a, two out, no-doubter to right.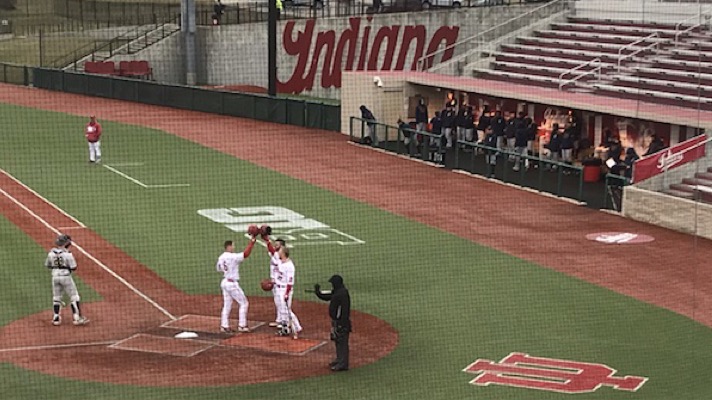 He finished the day 3-6 with three RBIs and a double on top of his homerun.
Sam Crail and Jeremy Houston each finished with 2 RBIs, while Tyler Van Pelt, Jake Skrine, and Cole Barr each had one apiece. The entire lineup was producing, and they were coming at the right time. Out of the 18 total runs, 11 were scored with two outs. That will win you a fair share of ball games.
Although the score was out of reach, Braden Scott and Brad Busald came in and contributed quality innings. Scott threw two scoreless with two strikeouts and Busald struck out one allowing two hits.
Overall, it was the production from the lineup that allowed the Hoosiers to coast to an easy win. Canisius had no answer.