By Josh Bennett•@jmbennett22 • Sept 3
Coach Mercer has tabbed Kent State's Derek Simmons to assume the role as Volunteer Assistant Coach. He replaces Casey Dykes who has taken a position in the Yankees Organization.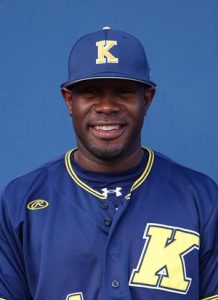 Photo credit • KentStateSports.com
Coach Simmons will become the new hitting instructor and infield coach for the Hoosiers.
He comes to Bloomington via jobs at Kennesaw State, Alabama, Central Michigan, and his most recent position as Assistant Coach and Recruiting Coordinator at Kent State.
Last season, with Coach Simmons recruiting, Kent State had the 25th ranked class per the Collegiate Baseball rankings.
Coach Simmons has been involved with the USA Baseball program since 2012.
Simmons was part of the staff for Kennesaw State's run to a Super Regional in 2014.
Release : Kennesaw State Athletics
Simmons played a key role for KSU's historic run in 2014, in which the team won its first ever Atlantic Sun Conference Championship as well as the NCAA Division I Tallahassee Regional. The Owls finished up the season as a top 10 team in the nation in total hits with 677 (third overall in the nation) and posted a team batting average of .297 (18th overall in the nation). Under his guidance, Simmons led KSU to 21st in the nation in overall runs and 38th in scoring, while leading the A-SUN Conference in runs scored and scoring per game.
As a player Coach Simmons played in the Division II College World Series in 2006 and earned 2 letters. After transferring to Georgia State for his final two seasons, he went on to be a two-year letter winner and Captain at Georgia State. In his two seasons in Atlanta with the Panthers, Simmons earned first team All-Conference accolades, becoming the first to accomplish that in school history. He finished his career ranked in the top ten in numerous single season categories, including home runs, runs scored, and RBI while posting a .344 career batting average.
Release : Georgia State University
Simmons played a key role in leading the Panthers to their first CAA Championship and NCAA Atlanta Regional appearance in 2009. He becomes the fourth member of the class of 2009 to sign a contract to play professional baseball.
After becoming the first baseball player in Georgia State history to earn a pair of all-conference first team honors, 2009 graduate

Derek Simmons

has signed a professional contract to play with the Gateway Grizzlies of the Frontier League beginning this spring.
In his two-year career, Simmons batted .344, tied for the fifth best batting average in school history. During his junior year, he batted .379 to earn All-CAA First Team honors as a designated hitter.
In his senior year, Simmons belted 13 home runs, ninth most in a single season, while scoring 60 runs, the third most in one year in Georgia State history. He was honored with All-CAA First Team honors for the second year in a row and sparked the Panthers in the CAA Tournament.
Coach Simmons also made Baseball America's Top 50 Coaches to watch list this spring.
Release : Baseball America Top 50 Coaches to watch 5/25/19
Derek Simmons, recruiting coordinator, Kent State: Simmons, 32, is one of the hot, young assistant coaches in the country. He has experience at Central Michigan, Kennesaw State, and Alabama and has now spent two seasons at Kent State. He also has been a regular with USA Baseball during the summer. Simmons doesn't have to be in a rush to get to a head coaching role, but his energy and success on the recruiting trail make him an intriguing candidate for mid-major openings.
It looks like a really solid hire to replace a coach that did a great job with the IU Baseball program, but under the restrictions of the NCAA rules, needed to move on….
A topic and discussion for another day!
The IUBase Team would like to congratulate Coach Dykes, Chaney, Jett, and Kash on their move to the Yankee organization and wish them well!
We are also excited to welcome Coach Simmons and his family to Hoosier Nation!!
For more updates on all Hoosier Baseball in the News you can follow iubase.com on Twitter @iubase17 or join the #iubase Facebook Fan Group.