The Purple Aces (also 8-12) come the BART for the final non-con weekend

by Carl James •

@jovian34

• March 24th, 2022
Indiana University Baseball hosts the Evansville Purple Aces in the last non-conference series of the season. Both teams enter the season 8-12. The highlight of Evansville's season so far was a three game sweep on the road at Tulane, who was in D1Baseball's Top-25 at the time. Last weekend the Aces dropped two games of a double header at Northwestern.
As far as the Evansville series goes, Jeff Mercer described it as, "getting back to a more traditional week, a three-game week, a position where your bullpen is hopefully set for the week." When asked about who would relieve Perkins if protecting a lead Mercer said, "You look at Holderfield and Tucker and several of those guys you do feel better about." Perkins will start for Indiana on Friday, Bradley Brehmer on Saturday. He suggested Sunday would be a collection of arms who didn't work the other two days.
Mercer stressed that the pitching issues so far have really come with runners on base,"If you look at your batting average against for the season without runners on base and with runners on base your looking at like a fifty or sixty point swing." He stressed that the pitching group is talented but that some guys are not "executing pitches in the fray." When discussing who would get the ball in key spots Mercer said, "Ultimately you need to have guys in there that can manage with base runners."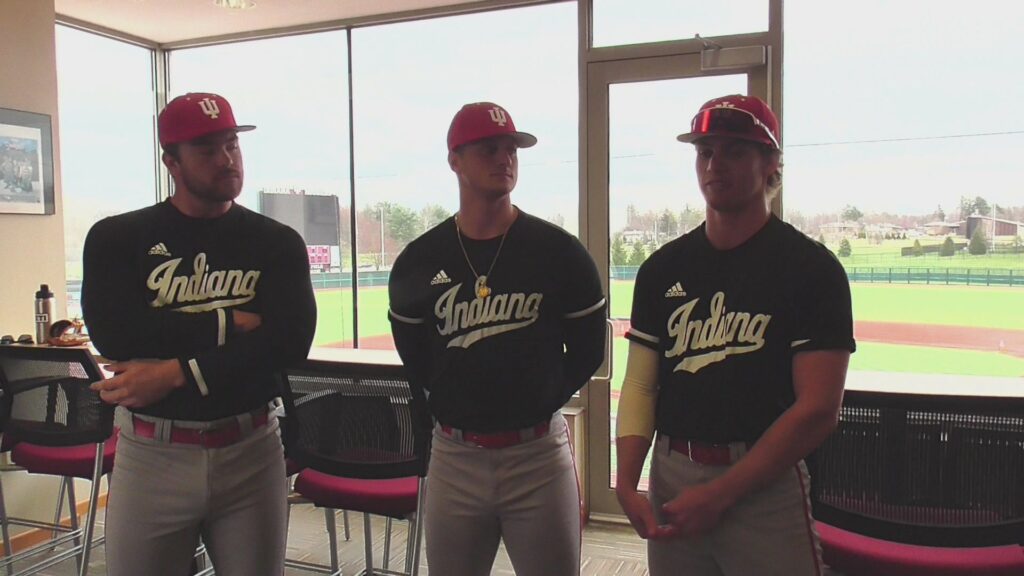 Jack Perkins said, "We're a very talented staff and in a year I think we are going to look back on this and say it was just a bump in the road." Catcher Matthew Ellis added, "we know that the pitchers are going to come along fast. We saw what they did the entire fall and winter so we know they'll be there in the end."
Bobby Whalen says regarding the aftermath of his collision with the centerfield wall on Sunday, "I'm feeling good, ready to go." Whalen describes the three-hole in the Indiana lineup being "one of the easiest spots to be in," with Doanes and Glasser in front to provide RBI opportunities and Ellis behind him to allow him to score runs.
Evansville has gotten it's best starts from it's Saturday guy, Shane Gray. at 3-2, Gray leads the rotation with a 1.38 WHIP though he does have a higher ERA then Evansville's Sunday starter, Nick Smith. Offensively the Purple Aces are lead by Mark Shallenberger who is hitting .384 and getting on base at at .471 clip. Tanner Craig provides the power with 7 home runs and 22 RBIs. As a team Evansville is hitting .268.
Friday March 25th at 5pm
Indiana: RHP Jack Perkins (2-1, 3.37 ERA, 1.07 WHIP, 12.7 K/9)
Evansville: RHP Shane Harris (1-2, 7.54 ERA, 1.80 WHIP, 6.5 K/9)

Forecast

: High of

51°, 39% chance of rain, wind blowing out to right field 13 mph
Saturday March 26th at 2pm
Indiana: RHP Bradley Brehmer (2-1, 7.40 ERA, 1.40 WHIP, 7.4 K/9)
Evansville: RHP Shane Gray (3-2, 7.18 ERA, 1.38 WHIP, 10.7 K/9)

Forecast

: High of 39

°, 10% chance of rain/snow, wind blowing in from left field 19 mph
Indiana: TBA
Evansville: RHP Nick Smith (1-2, 5.04 ERA, 1.60 WHIP, 7.9 K/9)

Forecast

: High of 43

°, 2% chance of rain, wind blowing in from left field 10 to 15 mph