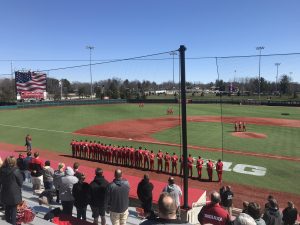 This whole weekend was of course surrounded by the NCAA Tournament. But the March Madness schedulers really took care of the #iubase fans.
Just about every moment that The Madness supplied was not during game time At The Bart. And The Bart supplied plenty of March Madness all by itself.
Starting Friday, we had Kaletha going all Rickey Henderson again and starting the series off with a long ball. Is this guy ever gonna cool off ? I hope not. Who knew Roy Hobbs was from The Region?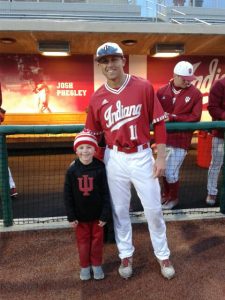 Jonathan Stiever was a man on a mission from the start. I'm convinced he had some VERY important plans set up for early Friday night. A well deserved T Shirt for one of our Pair of Aces.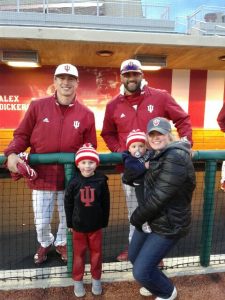 Before we knew it the score was getting out of hand and then Justin Walker hits a first career homer that's a grand slam too.
Walker home run celebration here
9B588E13-D5DB-4FA0-97C4-0D1370C23E11
Saturday was a completely different story. Elijah Dunham helped Hoosier Baseball scratch out two runs before that turned out to be a one run deficit in the Bottom of the 8th.
Then THAT happened.
Luke Miller decided, down 1-2 in the count, that Hoosier Baseball wasn't gonna get to the 9th down a run. Might not have been to 45/46 but it sure was enough. And apparently enough to smile Postgame and even give a high five.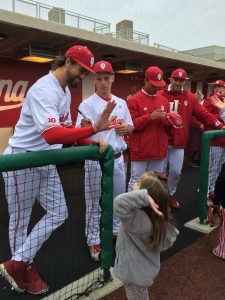 Next, that four year Hoosier decided we weren't gonna go to the ninth even tied. I believe his line was ' I was pretty pleased with that swing'.
Give me Logan Sowers in a big spot anytime.
It felt like Craig Dedelow in the rain At The Bart all over again and then Cal slammed the door shut which of course made the Drum Guy very happy.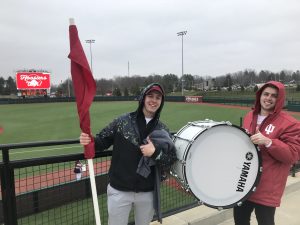 Those Sunday Reds were looking good with Cam throwing a gem but after a few bumps in the road we needed another hero.
Tied 3-3 in the bottom of the ninth and 2 outs, Matt Lloyd walked. Luke Miller hit it up the middle and then Logan Sowers was given the freebie.
Scotty Bradley decided he fit the hero mold and hit a rope to right and then ran for his life.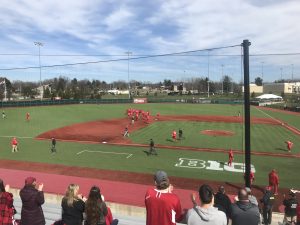 2 out walk off RBI's really are the best kind.
The Sunday Reds stay undefeated. Some great shots from Rebecca Mehling here
http://iuhoosiers.com/galleries/?gallery=6461
Next game Tuesday 4pm vs Wright State.
#iubase
— CF
Podcast: Play in new window | Download
Subscribe: RSS