Hoosiers and Terps start a series for the B1G Lead
By Carl James @jovian34 April 28th, 2023
---
Bottom 9th: Maryland 13, Indiana 2 (FINAL)
Mathison leads off the inning with a triple. Pyne flies out too shallow to score Mathison. Cerny strikes out and Jessee is plunked bringing up Maryland to Indiana transfer catcher Langerman. Langerman quickly gets behind 0-2 and is retired on a groundout.
Top 9th: Maryland 13, Indiana 2
Aydan Decker-Petty allows a walk, a single, and both score from a Matt Shaw 2-RBI double extending the Maryland lead to 11.
Bottom 8th: Maryland 11, Indiana 2
Glasser singles but is stranded.
Top 8th: Maryland 11, Indiana 2
Cooper Katskee is the new Hoosier pitcher. Riley Langerman is also in giving primary catcher Serruto a couple of innings off. Lorusso singles and Katskee get two outs on the ground and ends the inning with a strikeout.
Bottom 7th: Maryland 11, Indiana 2
Cerny hits a solo home run. Dean has struck out a career high 10 through seven innings.
Top 7th: Maryland 11, Indiana 1
Cerny is shifted into right field and makes the play throwing out Woods with Burton covering first. Orr flies out deep to Taylor in right. Zmarzlak gets ahead of Burton 3-1 and draws a full count walk. Keister also walks bringing back up the top of the order. Jeff Mercer goes to lefty Nathan Ball who hasn't seen much action recently. Ball walks Shliger to load the bases for Shaw. A wild pitch scores a run, but Ball ends the inning with a flyout.
Bottom 6th: Maryland 10, Indiana 1
Taylor and Mathison strike out around Brock Tibbitts who makes a loud out to deep center field.
Top 6th: Maryland 10, Indiana 1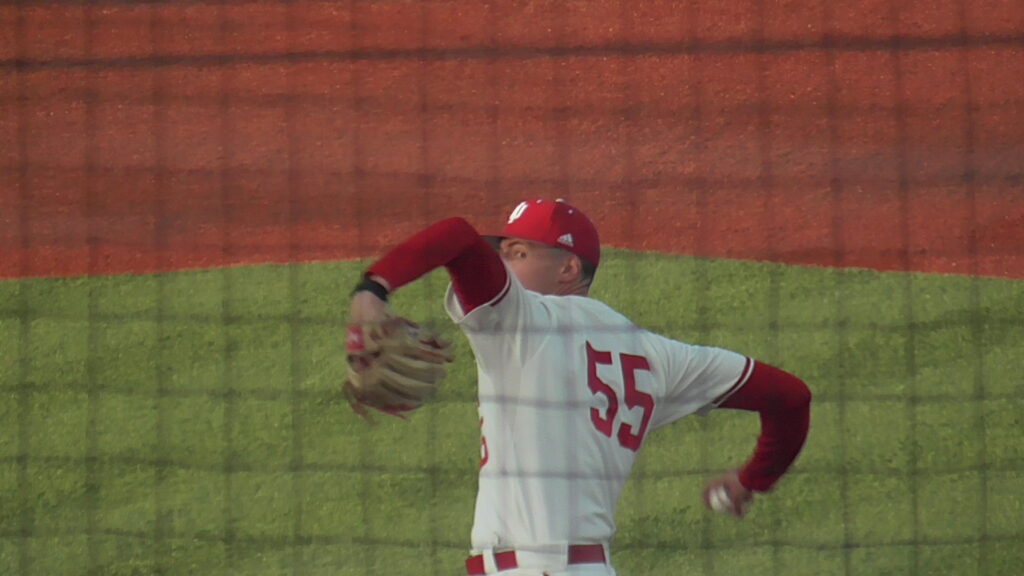 Burton back on the bump for Indiana. He gets two strikeouts, setting Maryland down 1-2-3.
Bottom 5th: Maryland 10, Indiana 1
Serruto singles, but three Hoosiers strike out. Dean at only 70 pitches through 5 with a huge lead.
Top 5th: Maryland 10, Indiana 1
A walk and weak contact for hits, and two hit batsmen has plated three more
and the wheels are coming off for Indiana. Two more score on an RBI single. Another RBI single to the 9-hole hitter ends Risedorph's day. Wes Burton gets the last two outs, one of them plating a run on a sacrifice fly.
Bottom 4th: Maryland 3, Indiana 1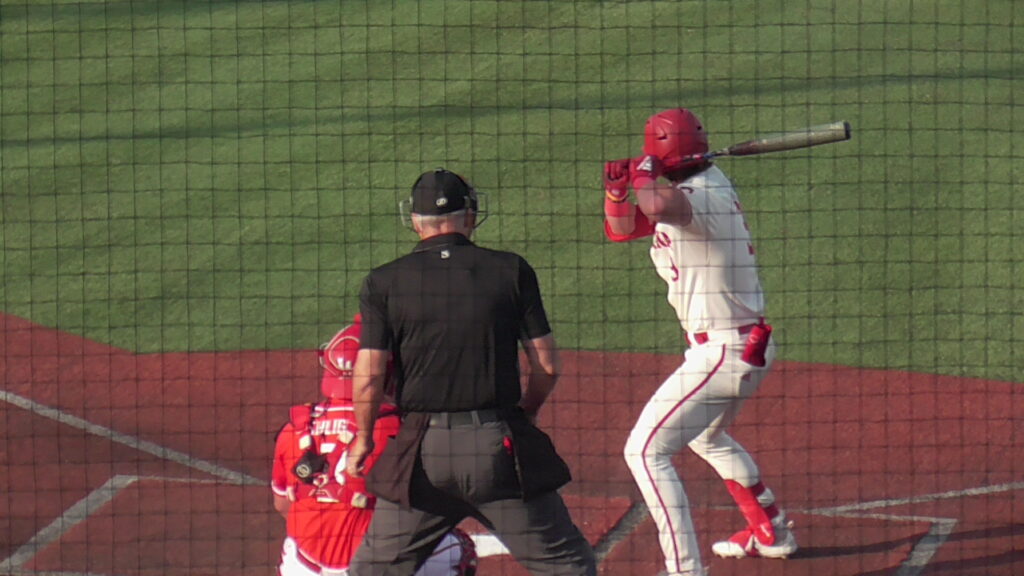 Mathison rips a one out shot over the right center field fence to get Indiana on the board. Hoosiers don't get anyone else on base. Dean is just at 55 pitches.
Top 4th: Maryland 3, Indiana 0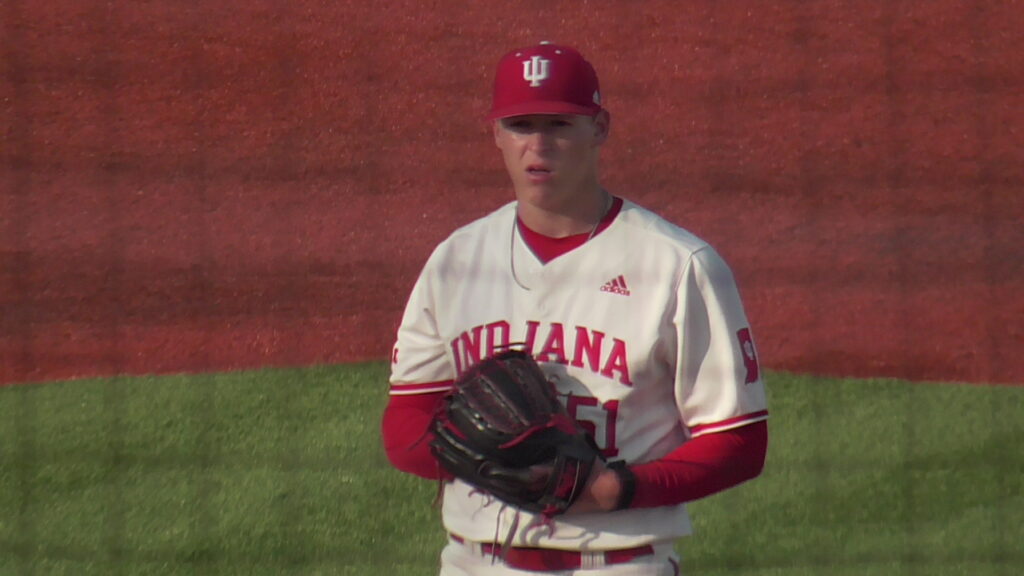 Woods flies out to Whalen in shallow center field. Orr legs out an infield single on a dribbler to Glasser. Bobby Zmarzlak strikes out on six pitches. Kevin Keister watches strike three.
Bottom 3rd: Maryland 3, Indiana 0
Hoosier top of the order goes down 1-2-3 on just 10 pitches. Dean is at only 42 pitches through three innings. On Wednesday, Coach Mercer stressed how important it would be to get Maryland starters to elevate pitch counts.
Top 3rd: Maryland 3, Indiana 0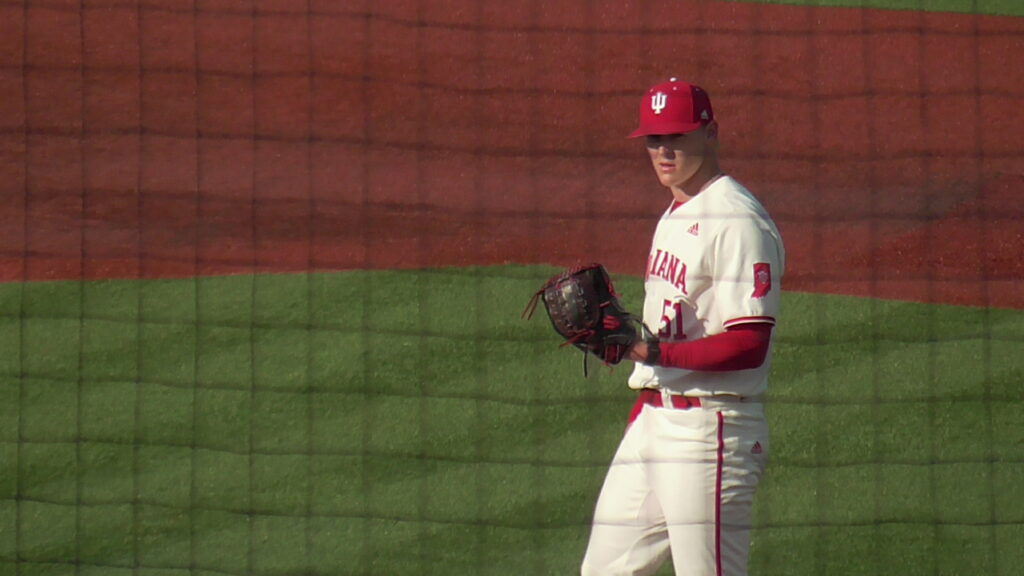 Risedorph walks Shaw on five pitches then gets Lorusso and Petrutz to fly out. ⭐Glasser catches a ball on a line to his right to end the inning.
Bottom 2nd: Maryland 3, Indiana 0
Carter Mathison works a walk, and Josh Pyne rips an 0-2 pitch for a single with no outs. They are both stranded as Tyler Cerny and Hunter Jessee strike out. Peter Serruto works a 2-2 count and makes good contact, but lines it right at third baseman Jacob Orr to end the threat.
Top 2nd: Maryland 3, Indiana 0
Brayden Risedorph takes over for Manase to start the inning with two straight strikeouts and a groundout.
Bottom 1st: Maryland 3, Indiana 0
Phillip Glasser pops up in the infield. Bobby Whalen works Maryland pitcher Nick Dean for six pitches, striking out looking at a nasty off speed pitch. Devin Taylor rips a 2-1 pitch into right field for a single. Tibbitts hits the ball on a line to the first baseman. Dean only needed 12 pitches to get through that inning. So far by the book for Maryland.
Top 1st: Maryland 3, Indiana 0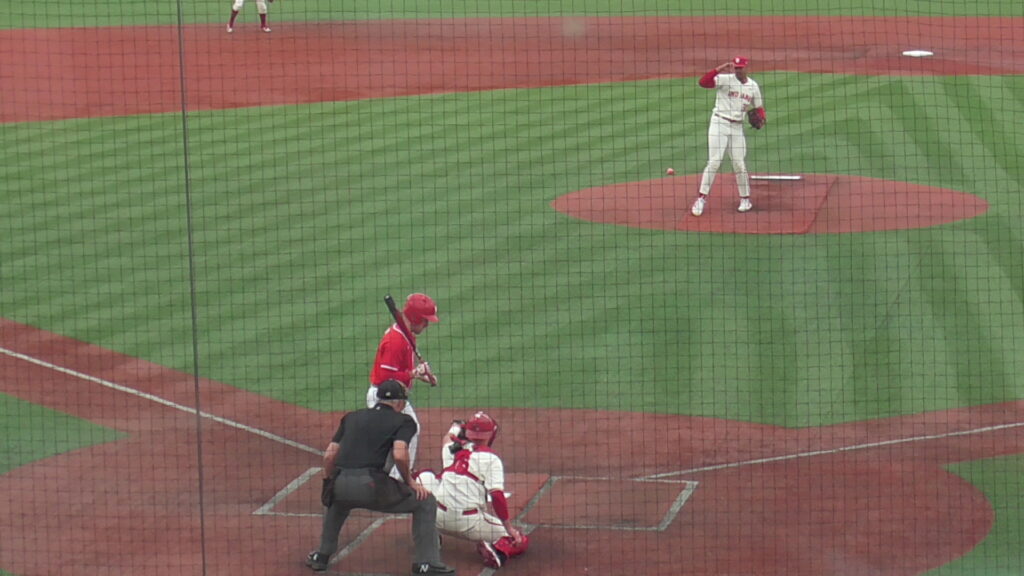 With one out Matt Shaw and Nick Lorusso go back-to-back with home runs to get the Terps on the board first. Ian Petrutz follows that up with a double to right and the Hoosiers have activated the bullpen. A wild pitch allows Petrutz to get to third with just one out. A sacrifice fly to short center field off the bat of Eddie Hacopian makes it a three-spot. Manase's struggles continue with a walk, but he ends the inning getting Jacob Orr to look at strike three. Given that the lead off spot will return in the second inning, it is possible that will be all we see of Manase today.
Starters
First 9️⃣ facing the Terrapins. pic.twitter.com/n34yainu9r

— Indiana Baseball (@IndianaBase) April 28, 2023
Pregame
Indiana's Seti Manase will face off against Maryland's Nick Dean. Dean had a very good outing against Indiana in the elimination game of the B1G Tournament last year, despite Maryland dropping that game. Dean is on 13 days rest, possibly to set him up for an extended outing in the hopes of limiting the opportunities Indiana hitters have against the struggling Maryland bullpen.
Manase will likely be limited as he has been in the past. It will be interesting, if he has things under control, if they will allow Manase to face Maryland's top of the order who have combined for more home runs than the entire Indiana roster combined.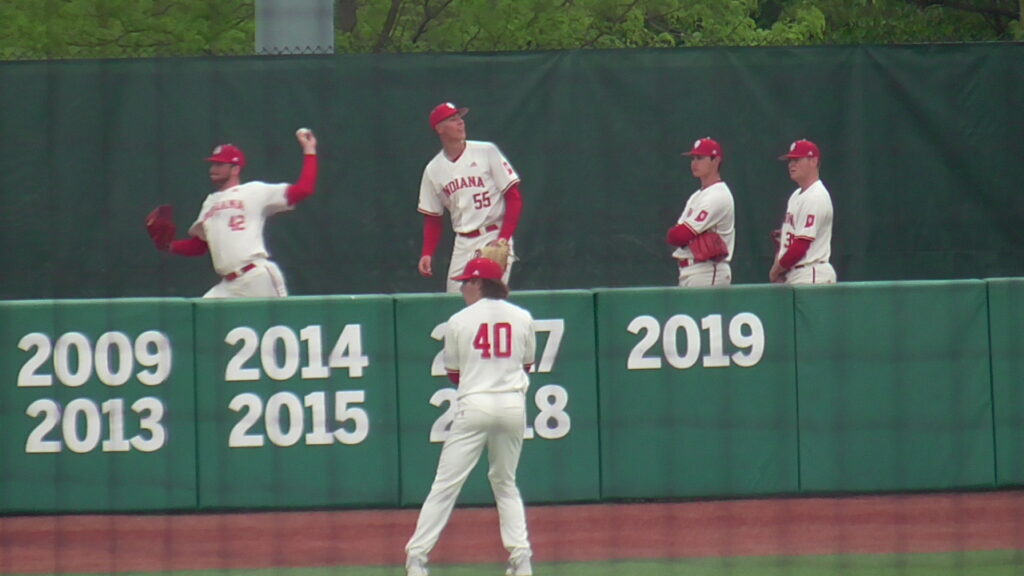 Links
Hoosiers take on the Terps.

📺 https://t.co/cGgzsDmIoS
📻 https://t.co/Q3EAWiGCJF
📊 https://t.co/LFiX0NoV4O pic.twitter.com/us3jsrq5Tm

— Indiana Baseball (@IndianaBase) April 28, 2023