By Chris Feeny • @ChrisF3105 • May 17
Big time players show up in big time games. Luckily, Hoosier Baseball has a few.
Matt Lloyd and Matt Gorski awaited their turns at bat in the 6th with the Hoosiers down a run. They met again 6 pitches later with a fore arm smash at home plate up 2 runs.
The pressure of hitting with Scotty Bradley on 2nd being behind a run with 2 outs for Matt Gorski ? Didn't matter. RBI Double.
The pressure of hitting with 2 outs and 2 strikes with Matt Gorski on 2nd in a tie game for Matt Lloyd? Didn't matter. Home Run.
In the postgame media session Coach Mercer was quoted as saying ' It's hard to be 'The Dude.' Well, somebody better tell Lloyd and Gorski that because they made it look pretty easy tonight. Actually, we've watched them both be 'The Dude' for three years now. And boy has it been a pleasure.
Plenty happened before and after that 6 pitch sequence including our Ace starting his last career game at home. That 6 pitch sequence secured Pauly Milto a Win for his last game at The Bart. As he has been for four years in Bloomington he left The Bart a winner. Seems right to me.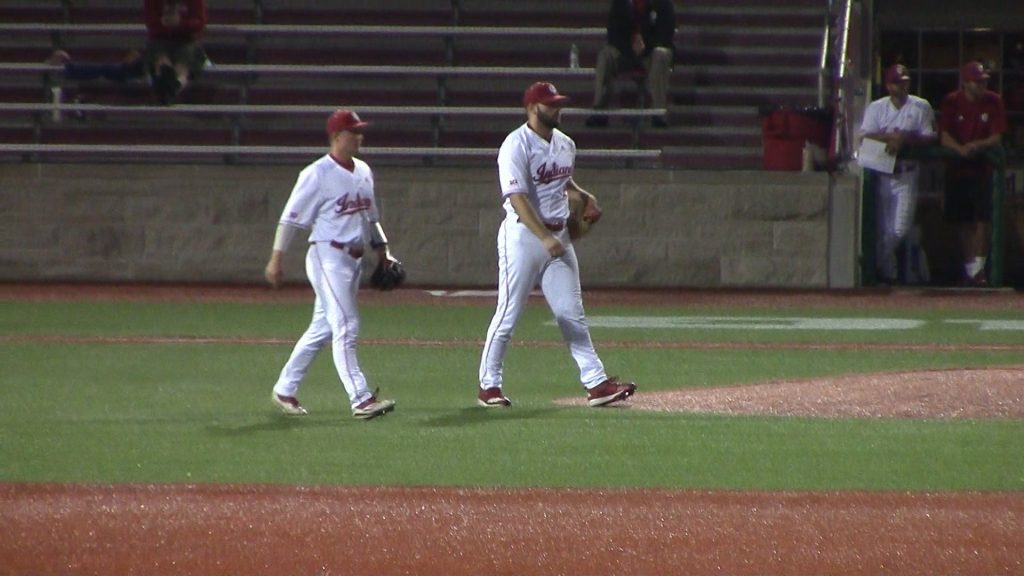 Pauly Milto has done it all in a Hoosier uniform and leading this pitching staff this year through a staff change and a rocky start can not be overlooked. The pressure of being the mentor and the leader and the teacher for newcomers and younger players? Didn't matter. Milto did that and was our Friday Night Star all year.
We've watched Pauly be a leader and winner here for years. And boy has it been a pleasure.
Up and coming stars at the plate, Eli Dunham (4 hits) and Justin Walker (clutch 2 out 2 rbi double) added to the Hoosiers offensive success tonight as well.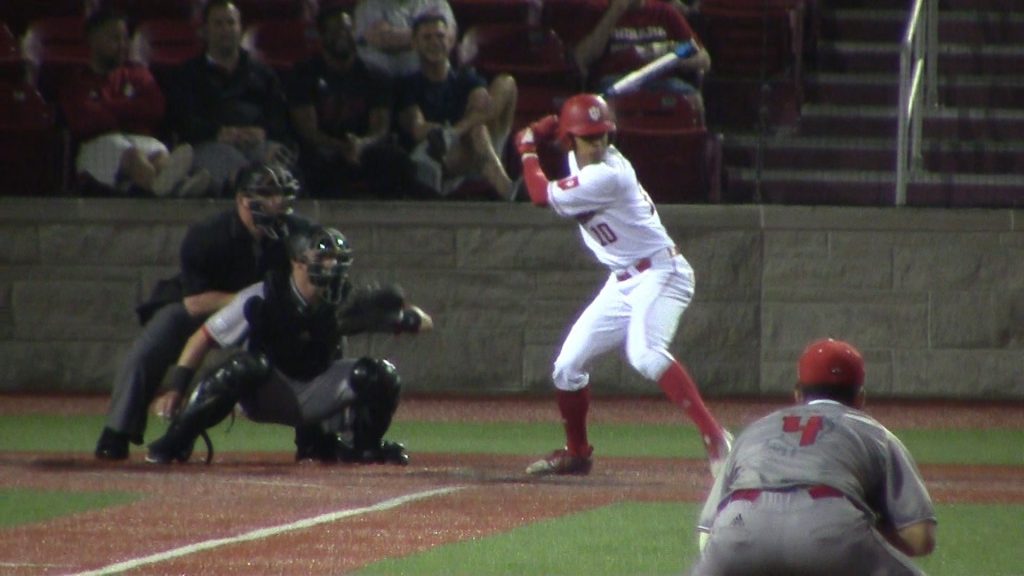 Throw in lights out relief from Grant Sloan and Connor Manous (9 up 9 down 3 K's) and it all added up to us watching a 7-5 Hoosier win at The Bart.
And boy was it a pleasure.
Jeff Mercer Media Session
As you'll see, during the media session, Nebraska finished off Michigan leaving Indiana just a half a game back of first place in The B1G.
This sets up quite a Friday. To avoid projected bad weather in Nebraska on Saturday , Michigan and Nebraska will be playing a doubleheader Friday (4pm and 9pm starts). Indiana gets Rutgers at 6pm. Hoosier Baseball's Magic Number is 3. If any combination of Indiana wins and/or Michigan losses equals 3 then it's time to hang a 2019 B1G Banner in Bloomington.