By Chris Feeny • @iubase17 • July 31
Yesterday, LSU Head Coach Paul Mainieri met with the media to discuss his 2020 roster and introduce his newcomers from the class of 2019. He also announced that next year LSU will open it's season at Alex Box Stadium with a 3 game series against the Indiana Hoosiers.
While discussing Hoosier Baseball with theadvocate.com, Coach Mainieri said "We're going to have our hands full opening weekend, It's going to be a very tough opening series."
This will not be the first time Hoosier Baseball will face Coach Mainieri and the LSU Tigers. The venue will be new though.
In 2008, Indiana also opened the college baseball season at LSU but that was the final season opener of the "Old" Alex Box Stadium. After dropping the first two games, Indiana headed to the 9th inning on Sunday tied at 6. Josh Phegley hit an RBI sacrifice fly to take the lead 7-6 and the Hoosiers held on to take the finale. Those are the only three games ever played between the two programs.
Box Score via stats.iuhoosiers.com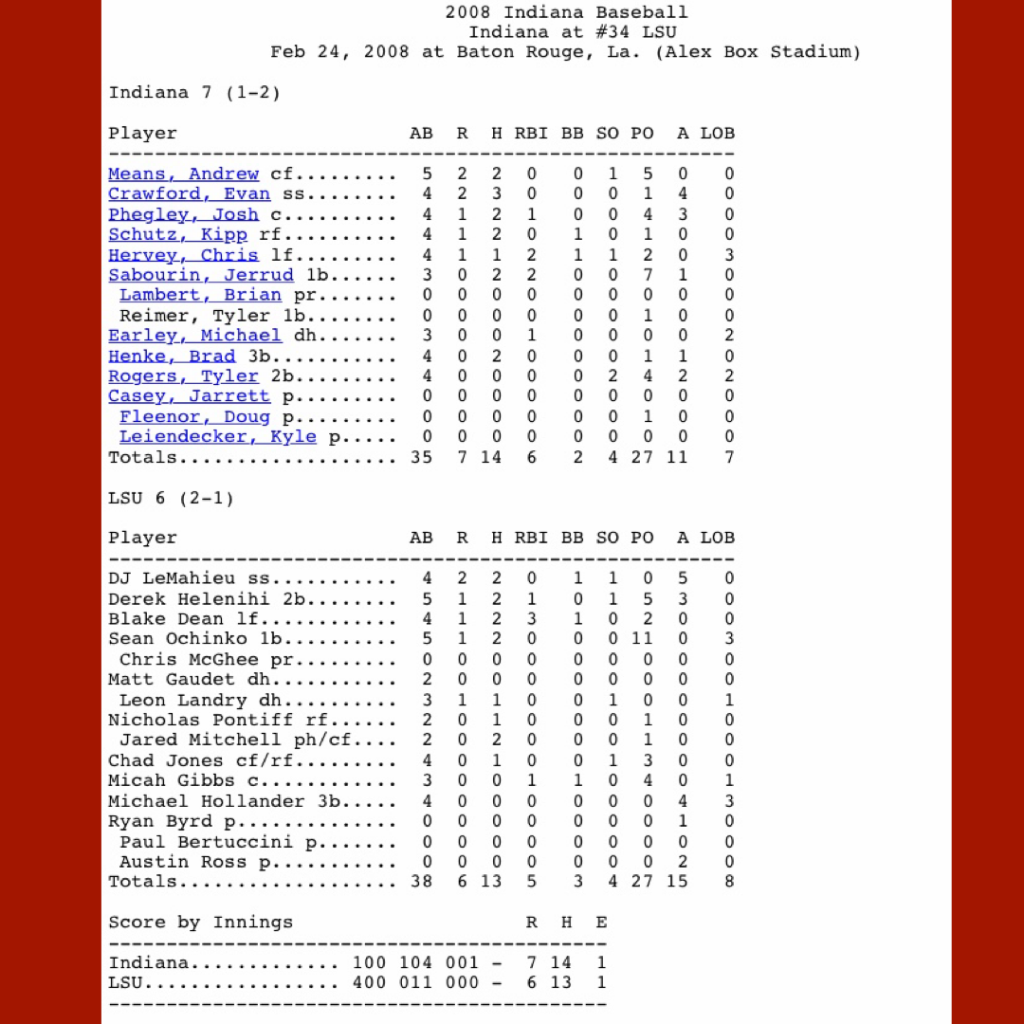 Since that 2008 season there have only been two other road SEC series played by Hoosier Baseball. In 2013, a series win against Florida in Gainesville and last season it was a Tennessee sweep in Knoxville.
Not only is this a great opportunity to build that postseason resume but also for the experience of playing in one of college baseball's historic venues. Whether it's the original venue or the current one, Alex Box Stadium is one of the most storied college ballparks in the country. Here is the 'Voice of The Box' Bill Fraques explaining where the ball park got its name.
I would think tickets would not be the easiest to come by. But if you can, this is a hard trip to pass up. Not a bad way to meet the 2020 version of Hoosier Baseball.
To keep up with 2020 schedule updates or any other Hoosier Baseball in the News you can follow iubase.com on Twitter @iubase17 or join the #iubase Facebook Fan Group.