By Chris Feeny • @ChrisF3105 • Oct 7
A rare October Saturday at The Bart provides a win, a loss, and another preseason look at this new group of Hoosiers.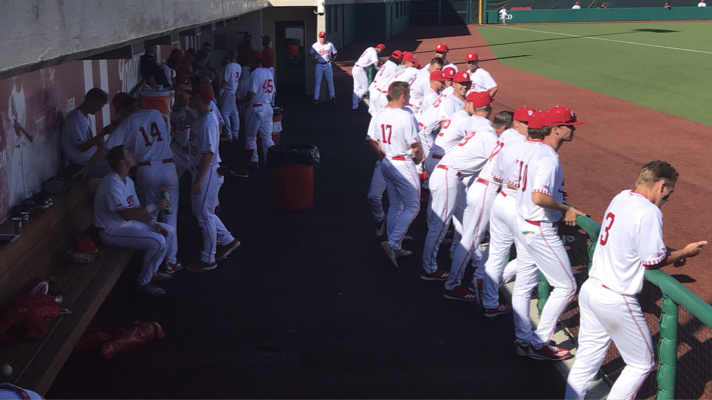 I'll be honest, any Saturday at The Bart works for me. A good tailgate with friends, an afternoon at the ball park, and hopefully clinching a home series win is a great day in my book. With that said, getting 75 degrees and sunny weather makes it even better. It's been years since spending a Saturday in October at The Bart and this one absolutely delivered.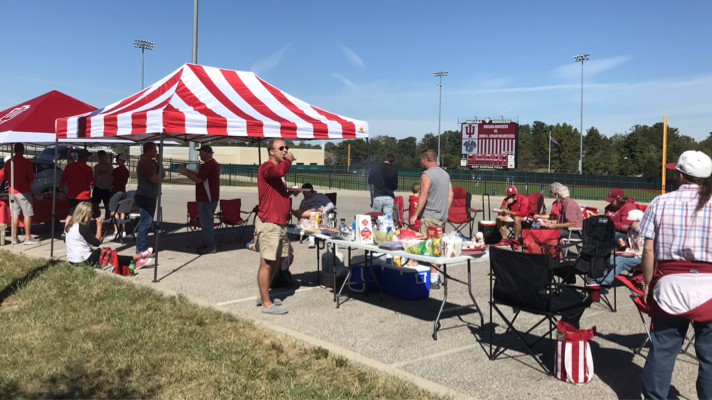 After the tailgate concluded, we saw Gabe Bierman return to the mound at The Bart for the first time since the dog pile.
John A Logan manufactured a run without a hit and we were underway. They would score another in the second off Bierman with a few hits and a few stolen bases. He quickly settled down stranding a guy at second with none out with a few K's and a fly ball to finish his outing.
The bats had an opportunity in the second, but after a few runners left in scoring position, Sophomore Alex Franklin took the mound in the third with John A. up 2-0. They added 1 more off Franklin to continue building that picket fence but an Eli Dunham 2 out 2 run homer in the bottom of the inning made it 3-2.
Franklin looked great in the fourth.
Hoosier Soph RHP Alexander Franklin Ks the side with above avg 77 79 CB, great shape, late action and 90 91 FB https://t.co/YaRyH4iXHB

— David Seifert (@DSeifertD1PBR) October 5, 2019
Drew Ashley tied the game in the bottom of the 4th with a 1 out single to drive in Hunter Combs.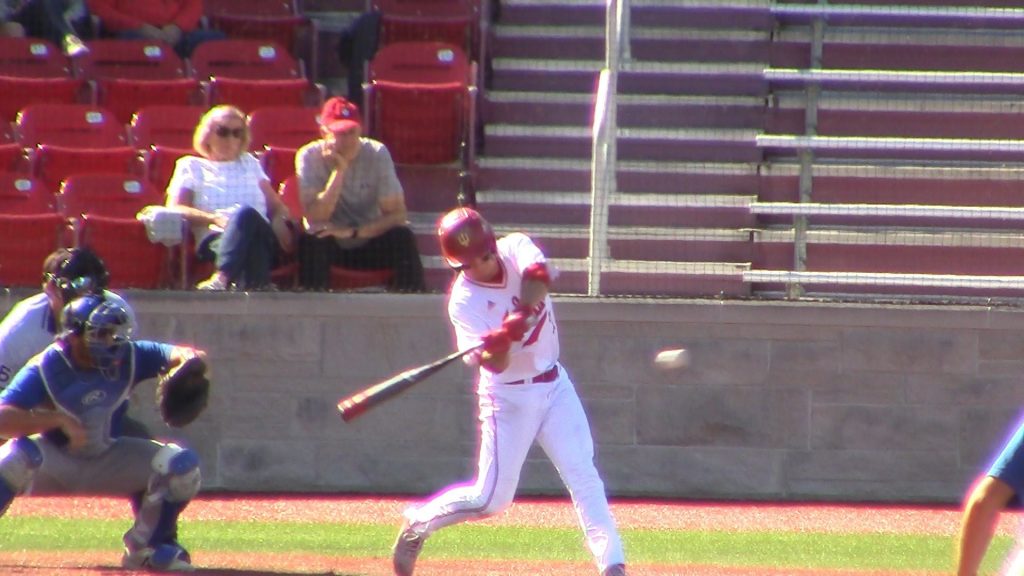 It would be tied 3-3 in the 5th for our first look at grad transfer Grant Macciocchi. It was a short look though, only needed seven pitches to get back in the dugout.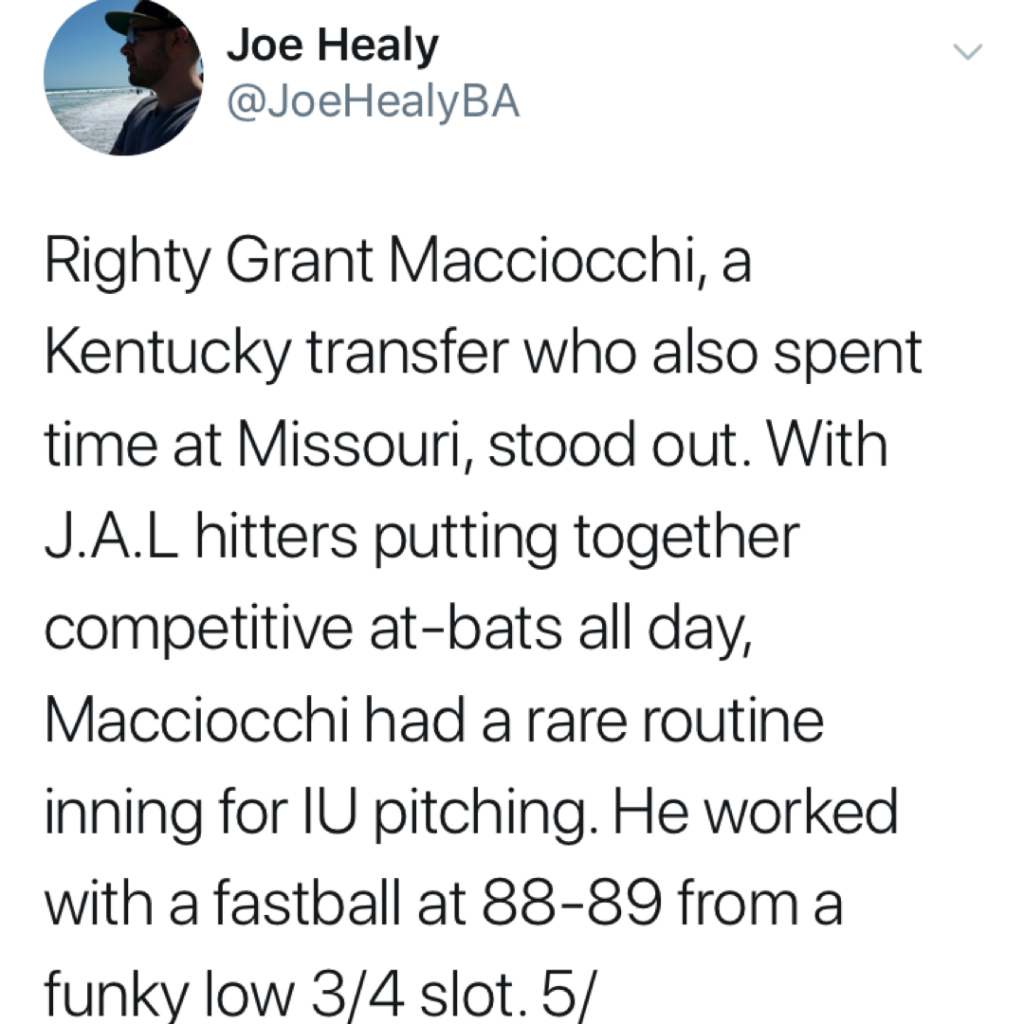 Coach Mercer also discusses the newcomer to Hoosier Baseball in his postgame media below. Looks like his two way ability is also going to be a valued addition to this group.
To the sixth it was still tied at 3. Grant Sloan kept it that way with some help from his right fielder. Freshman Hunter Jesse threw out a runner at home to end the inning.
These were 7 inning games and Connor Manous was given the chance to keep it tied to the Hoosier's last at bat. He stranded a runner at third and the bats had the chance to walk it off.
Jake Skrine connected with a 1 out single to start the rally. Freshman Ethan Vecrumba pinch ran for Skrine. The speedy Vecrumba stole second. After Grant Richardson was hit by a pitch, it was Drew Ashley's turn for a 2 out game winner.
He delivered.
Drew Ashley drives in Ethan Vecrumba to walk it off. Hoosiers Win 4-3. #iubase pic.twitter.com/dNS7Vn6x7U

— iubase.com (@iubase17) October 5, 2019
Tommy Sommer was handed the ball to start Game Two.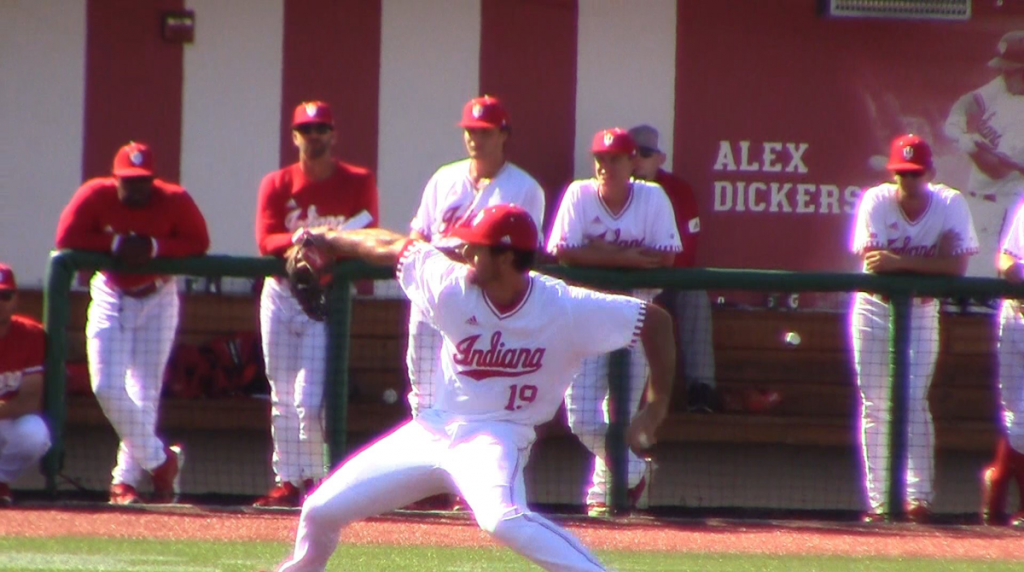 John A Logan hit a long ball in the first but Sommer kept it at just the one run.
Eli Dunham quickly tied the game in the bottom of the first crushing an RBI double. John A Logan has some very impressive arms but Dunham showed off that power bat in both games.
Just like in Game One, John A. put a run on the board in the second as well but Sommer picked off a runner at first to end that rally.
Sophomore McCade Brown pitched the third allowing two runs but settled down nicely to get out of a jam. Then taking the mound in the 4th down 4-1, retired the side in order.
My 1st look at @IndianaBase Soph RHP McCade Brown, former @CoachKsAcademy talent. Easy FB up to 92 and hard 80 82 breaker.6'6/200, athletic delivery with loose, quick arm. A lot to like for the 2021 MLB Draft pic.twitter.com/pwVAacfmJu

— David Seifert (@DSeifertD1PBR) October 5, 2019
Next Sophomore Braydon Tucker added to his impressive summer with the Terre Haute Rex by throwing two scoreless innings. He seemed very confident on the mound and made quick work of the John A. bats including two strikeouts.
Braydon Tucker throws a scoreless 5th. John A. Up 4-1. #iubase pic.twitter.com/nJYqylA3qX

— iubase.com (@iubase17) October 5, 2019
John A Logan kept throwing zeros as the game went on. There is a reason they have so many D1 commits leaving this team. Very impressive arms all day.
Matt Litwicki was given the seventh and he was worth the wait.
Speaking of relievers, So. righty Matt Litwicki made everyone stand up and take notice late in game two. He was up to 93 with his fastball and showcased a tight slider that he used to strike out Logan SS Ryan Ritter, the most impressive hitter in the Vols' lineup Saturday. 7/

— Joe Healy (@JoeHealyBA) October 6, 2019
Joe wasn't kidding and there were plenty watching. Whether it was D1Baseball.com, Baseball America, Prep Baseball Report or the half dozen MLB scouts, those Red Seats were filled with laptops and radar guns on Saturday.
There was no walk off for the offense this time so Game Two went to John A Logan 4-1 leaving us with a split for the day.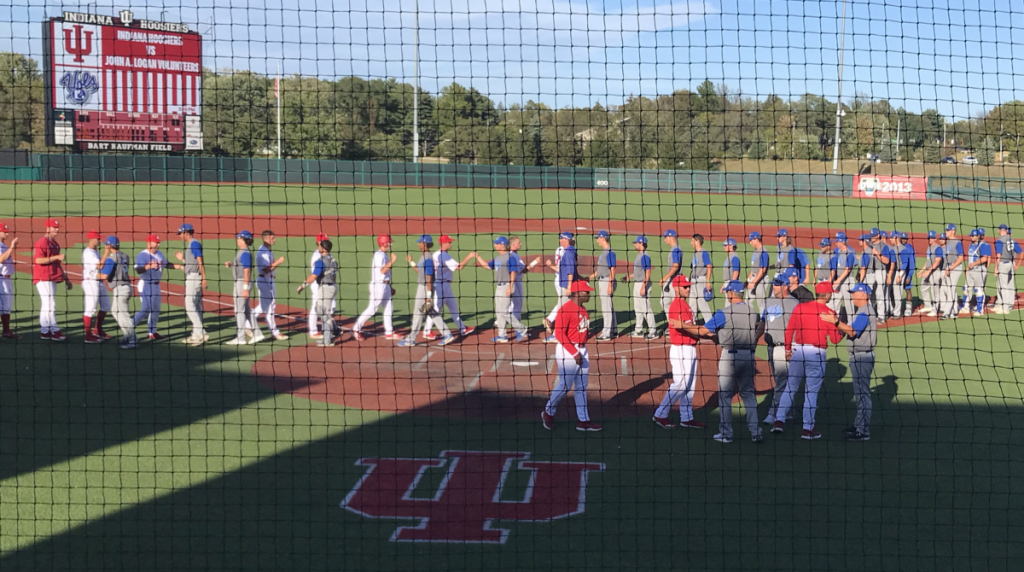 The scoreboard might've said different but getting a beautiful October Saturday at The Bart sure felt like a win win to me.
The third and final Fall Ball Exhibition doubleheader for Hoosier Baseball is scheduled for Saturday October 26th at the University of Cincinnati.
Coach Mercer's postgame interview with Carl James