by Max Heath • @max_heath • Mar 16
Game One
Indiana took care of business, winning 5-2 in the first game of the Saturday's double-header.
The second game of the weekend series was no different than the first in terms of hitting, but Tanner Gordon's arm stole the show in game two. Gordon went eight innings giving up just one earned run while striking out a career-high 10 batters. He's struggled with control in his first few outings, but he was dialed in on Saturday and earned his first career win.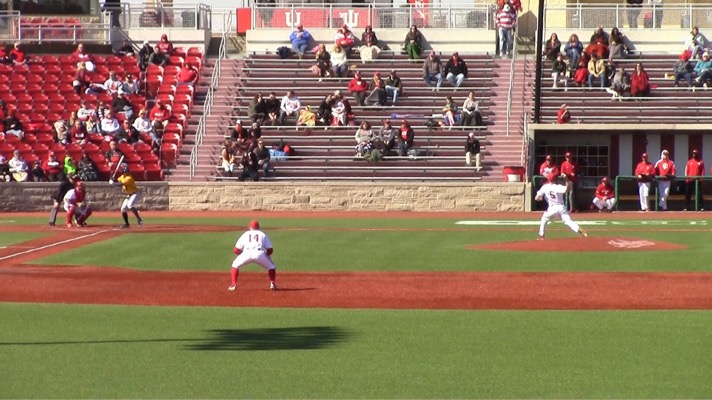 Gordon owes Matt Lloyd a free dinner after his performance at the plate. Lloyd reached base five times, going 4-4 with two solo homeruns, two singles, and a walk. The Hoosiers totaled 15 hits all together and to everyone's astonishment, Matt Gorski wasn't involved in that total. The Hoosiers lead-off slugger went 0-5 with 2 strikeouts to end his 11-game hitting streak.
However, his teammates picked up the slack. Sam Crail had a career-high three hits and Tyler Van Pelt continues to be impactful in his first year in Bloomington. Van Pelt pinch hit for fellow freshman Jake Skrine and went 2-2 with an RBI. Skrine went 1-2 with a run scored in his third start of his career.
Indiana went eight innings of errorless baseball, but the ninth however was a little sloppy. Conner Manous came in and threw a solid inning with two strikeouts, but a two out hit batter gave Canisius life. A fielder's choice followed and an errant throw by shortstop Jeremy Houston allowed a run to come around and score.
A breakdown in the ninth, didn't spoil it for Indiana. They handled the Golden Griffins and improved to 9-8 on the year. They weren't done there though.
Game 2
Indiana doubled down on the day with a 16-5 win over the Golden Griffins.
The Hoosiers continued to put the ball in play, but Canisius' defense gave them some help.
An outfield single by Sam Crail opened up the scoring parade with an errant throw from the right fielder brought three runs across in the first inning. Three early runs gave freshman starter Alex Franklin the cushion he needed to roll through the order.
Franklin pitched three scoreless innings of one-hit baseball and totaled two strikeouts. He had a solid outing with the only turbulence coming from two hit batters. Other than that, his effort was well deserving of first collegiate win.
The bottom of the third is when Indiana opened the floodgates to a scoring frenzy. Grizzled veteran Ryan Fineman initiated it with a solo shot over the right field fence. After that, it was just a matter of making Canisius make plays and the Hoosiers were putting together some great swings. Indiana hit through the order bringing Fineman back to the plate. Fineman flipped one to the outfield and a botched catch brought home three runs to put Indiana up 10-0. Crail then doubled to left to score Fineman and that was the end of the Hoosiers eight run third inning.
A sacrifice fly from Grant Richardson scored one in the fifth and Matt Gorski got in on the fun in the bottom of the sixth with a two-run shot to center to score Jeremy Houston. The Hoosiers had 14 runs at the start of the seventh and Head Coach Jeff Mercer decided to make some substitutions. One of those being sophomore Justin Walker who came through with a two RBI single up the middle in his lone plate appearance.
As for the pitching after Franklin, it was Cam Beauchamp that got the first opportunity out of the pen. Beauchamp threw three innings, giving up five hits, with two earned runs and four strikeouts. After Beauchamp, freshman Matt Litwicki got an opportunity to gain some experience for the Hoosiers.
Litwicki threw the last three innings giving up five hits, three earned runs and struck out three. It wasn't an ideal day for Beauchamp or Litwicki, but they battled, and that experience is more valuable than statistics.
This team looked confident at the plate and were taking smart at-bats and it led to a plethora of runs. As a team they walked 11 times and struck out only seven, a ratio that Jeff Mercer wouldn't mind seeing more of. Overall, It was a great two games for the Hoosiers as they look for the series sweep on Sunday.
Coach Mercer's Postgame availability