By Chris Feeny • @iubase17 • July 29
Since the night he homered with his fellow Bash Brother, Kyle Schwarber had been pretty quiet. Sunday he made plenty of noise.
The thousands of Cubs fans in Milwaukee were pretty loud too. Probably because Schwarber had the Cubs up 7-0 after just his 2nd at bat of the game. Here's both.
A second inning grand slam and a fourth inning three run shot. That had not been done in 11 years.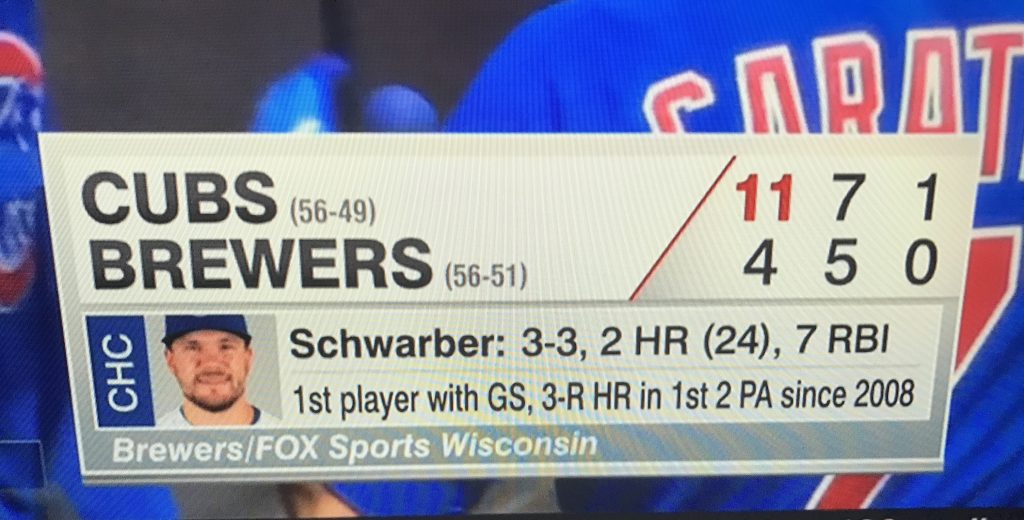 Not that hitting two in a game is anything new for Schwarber. Seemed like it was happening all the time his rookie season.
Schwarber first Cub since 1914 to record at least 3 multi homer games over his 1st 51 (Stats Inc). First to homer on 1st 2 pitches since '09

— Jesse Rogers (@JesseRogersESPN) September 12, 2015
Still, 7 RBI's after his first two at bats was new even for him. He was already sitting tied with Ted Kluszewski for the 2nd most RBI's in a game by a Hoosier Alum. Josh Phegley, Mr 500 , holds the record with 8 and he just set that in May of this year.
A single and an HBP kept Schwarber from adding to the RBI total but he still finished his Sunday with 7 RBI's, 4 runs scored, 3 hits and two homers.
Hopefully this jump starts another hot streak for Schwarber. His Cubs are tied with the Cardinals for first in the NL Central and seem to be our best chance to have a Hoosier in the postseason come October.
For updates on all Hoosier Baseball Alumni you can follow iubase.com on Twitter @iubase17 , InstaGram @iubase or join the #iubase Facebook Fan Group.