Hoosier Baseball Alumni Update
by Chris Feeny • @iubase17 • Aug 7
Plenty of big numbers recently from Hoosiers across several MLB organizations.
Logan Sowers heads into today's appearance in the Pioneer League All Star Game swinging a hot bat. He homered Saturday giving him 7 long balls on the season and has 12 hits in his last nine games. He's currently hitting .292 off righties and .417 off of the southpaws for the Great Falls Voyagers.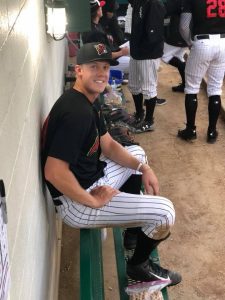 Sowers is one of the four outfielders selected to represent the Pioneer League tonight at Suplizo Field in Grand Junction, Colorado. You can watch tonight's Pioneer League All Star Game at 8:40 EST on milbtv but there is a monthly fee for the service.
Luke Miller has returned from his hand injury in a big way. He also homered Saturday for his second of the season.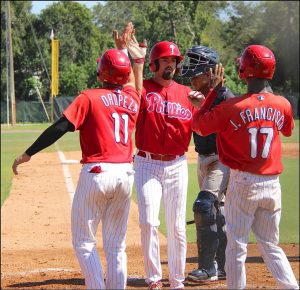 Miller has 6 hits and 8 RBI's in his last four games and is hitting .429 in August for the GCL Phillies.
Craig Dedelow, in his last seven games, has 5 hits, 5 runs scored, 5 walks, a homer and 3 RBI's.
This recent streak gives Dedelow 9 long balls on the season and 170 total bases in just 102 games for the Kannapolis Intimidators.
Micah Johnson's swing has welcomed the hot days of summer as well.
Including that grand slam, Johnson has 3 homers in his last 5 games. Those five games have also produced 7 RBI's, 6 hits and 5 runs scored for the Triple A Durham Bulls.
Our other Hoosier Baseball Alum In Triple A is probably the hottest bat of them all.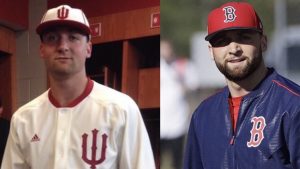 Sam Travis is currently on a 7 game hitting streak with 14 hits during that span. He's also picked up 2 RBI's and 15 total bases in his last seven. His Pawtucket Red Sox play the Indianapolis Indians this weekend at Victory Field (Aug 10-12). Tickets can be bought here and at about the 3:30 mark of this video update from last week are more details.
Feel free to grab tickets up in Section 217, there's about 20 of us up there already. And as always, follow all our Hoosier Baseball Alumni on a daily basis via @ProBallHoosiers. He tracks all 79 current Pro Ball Hoosiers across all sports including overseas.
#iubase tonight:
⚾️ @kschwarb12 (#EverybodyIn): HR (20), 2B
⚾️ @ScottEffross (AA @smokiesbaseball):
1 IP, 0 H, 0 R, 0 BB, 0 K
⚾️ @Craig_DEEDS⭐️ (A @Intimidators): 2B, 2 RBIs
⚾️ @JonathanStiever (R @gfvoyagers):
2 IP, 3 H, 1 R, 1 ER, 0 BB, 2 K

— Pro Ball Hoosiers (@ProBallHoosiers) August 5, 2018