Saturday will be a busy day for some home grown Future Hoosiers. Four players on three teams have an opportunity to be playing in the State Final game next weekend at Victory Field.
Last year at Victory Field, we were able to watch Micheal Dunkelberger with St Joe's win a title. Then, right after that, it was Nick Eaton's turn with Cathedral.
This year we have a chance at three title games that could include four Future Hoosiers.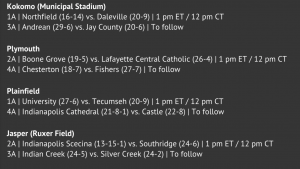 http://www.ihsaa.org/dnn/Sports/Boys/Baseball/2017-18/StateTournament/tabid/2120/Default.aspx#37712331-semi-states
Over in Plymouth, starting at 1pm it'll be Ty Bothwell and Boone Grove High School against Lafeyette Central for the right to play for the 2A Title next weekend.
Saturday's semi-state game at Plymouth is at Bill Nixon Field, where Plymouth HS plays their home games.

— Boone Grove Athletics (@BGWolvesSports) June 3, 2018
Following that game in Plymouth(approx. 3pm), it'll be Grant Richardson and Fishers High School vs Chesterton for the 4A SemiState Victory.
Calling all Tigers! Come show your support of Tiger Baseball on Saturday as they play in 4A North Semi-State at Bill Nixon Field in Centennial Park in Plymouth
Game will start approx 3:30pm

Field address:
1660 N Michigan St
Plymouth, IN 46563#FightFishersFight#GoSTRIPES

— Fishers Baseball (@TigerBaseball17) June 6, 2018
At Ruxin Field in Jasper , it'll be Sammy Barnett, Holden Groher and The Silver Creek Dragons against Indian Creek for a ticket to Indy. Silver Creek plays in the second game at Ruxin Field.(approximately 3:00pm)
Dragons head to Semi-state! Game will be played at Jasper High School at 3pm on Saturday June 9th. We need all our Dragon fans to come out in full force! #baseball #semistate #ihsaa #step6 pic.twitter.com/CtFTUD7BDo

— SilverCreek Baseball (@SCDragonsBBall) June 3, 2018
Here's what happened in the Regionals last weekend.
Silver Creek's Regional Win Game Recap
https://www.courierpress.com/story/sports/high-school/2018/06/03/silver-creeks-sammy-barnett-shuts-down-memorial-regional-final/667096002/
Boone Grove's Regional Win Game Recap
https://www.nwitimes.com/sports/high-school/prep-baseball-boone-grove-wins-a-wild-one-in-extra/article_c7f67d91-72bf-58b2-9144-dd502d010a8c.html
Fisher's Regional Win Game Recap
https://www.indystar.com/story/sports/high-school/2018/06/02/ihsaa-baseball-fishers-outlasts-carroll-first-regional-title/666614002/
Victory Field next weekend could be a great chance to see some Future Hoosiers playing for some hardware.
We'll know if and when the games will be by Saturday evening.
Go Hoosiers
#iubase
— CF