Walk Off Wednesday – Drew Ashley
by Chris Feeny • @iubase17 • Sept 19
The first time we saw Drew Ashley he was handing Logan Kaletha his walk off home run ball that he had retrieved from the left field bullpen against South Alabama. A few months later Thatcher was handing him a ball from right field at The Bart.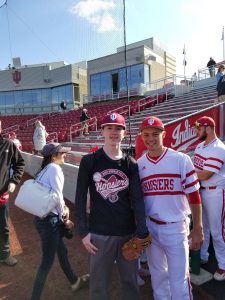 Ashley picked a great time for his first career home run. It stopped a four game losing streak and tied the series with Illinois up at 1 game a piece.
The word is, Ashley originally had wanted uniform Number 31 for another guy who was known for some late inning clutch homeruns. Sounds like he wasn't big enough for the jersey so he was given 24. Well, Number 24 was huge that Saturday afternoon. 3 hits, 4 assists at third and of course in the 12th he sent The Bart faithful home happy.
DREEEWWWWW !! #iubase pic.twitter.com/vuoaVguDrw

— iubase.com (@iubase17) April 28, 2018
He even made the cover of the Sunday Sports section the next day.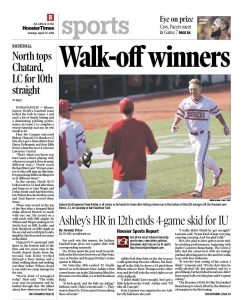 Not bad for a player we did not think we'd see to much of in 2018. Sometimes it's all about taking advantage of an opportunity.
Ashley ended up starting 22 games and playing in 10 more. Hit .303 and finished with 3 doubles and 3 homeruns. But probably none bigger than that walk off at The Bart.